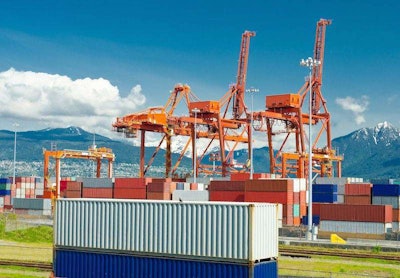 The video below is security footage the Port Metro Vancouver posted on its YouTube channel showing an instance of sabotage that secured it an injunction against truck driver protestors disrupting the port's operations.
Union drivers plan to join a non-union truckers' strike at Canada's Port Vancouver.
Port officials are considering solutions, but they have obtained an injunction against protestors disrupting operations.
The Port Metro Vancouver received 72-hour notice from the unionized Unifor-Vancouver Container Truckers' Association it will strike if issues are not resolved by noon March 6. The United Truckers Association, the port's owner-operator organization, began a work stoppage Feb. 26.
On March 3, port officials announced they "agreed in principle" to the British Columbia Trucking Association's proposal to address complaints of excessive wait times and insufficient rates. That plan, which includes extending hours and changing how fees are charged, is being is being circulated among trucking companies.
Federal Court Justice Simon Noël issued an injunction through March 11 against UTA members attempting to interfere in port operations. The port submitted a Feb. 27 video that appears to show association members stopping and possibly vandalizing a truck as entering the port. Law enforcement officials also have affidavits from witnesses of threats, intimidation and sabotage of property.
The port has pledged to terminate access permits of owner-operators involved in property damage or who have disrupted port traffic.
Founded last October, the UTA has reported a membership of 1,200 owner-operators, a figure the BCTA disputes. The Unifor-VCTA's collective agreement with PMV expired June 2012.
Other BCTA's recommendations include:
The PMV conduct full-rate audits of port trucking companies, which the provincial government has said it will support. Companies would be expected to help define the program's parameters and contribute funding for expanding these audits.
Waiving the Terminal Gate Compliance Fee when extensive terminal delays cause a ripple effect of missed appointments.
Trucking companies impacted by terminal truck processing delays are to be paid a Terminal Gate Efficiency Fee.