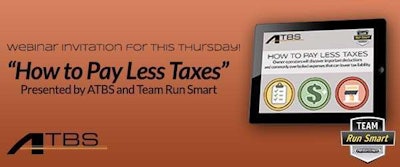 In collaboration with Freightliner's Team Run Smart initiative, the owner-operators tax and business services providers at ATBS will host a webinar on Thursday focused on the fact that "almost all owner-operators can significantly reduce the amount of money they hand over to the IRS every year," ATBS says.
The hour-long program will go in-depth on the tax code with information about typical owner-operator tax liability and varying ways to reduce it, including deductions (including the per diem), tax credits, successful bookkeeping strategies and more.
The webinar begins at 4 p.m. EST Thursday, March 6th. Interested parties can reserve their space via this link.