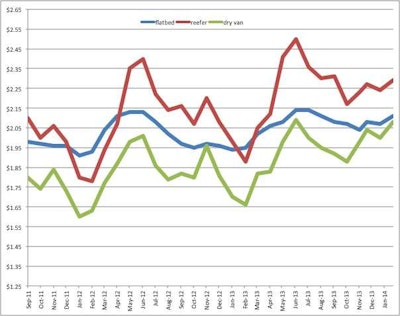 Per-mile rates on the spot market saw healthy spikes in all three segments — flatbed, reefer and dry van — in February, pushing rates to big year over year gains and setting a record for dry van loads, according to data released this week by load board Internet Truckstop.
The rates follow small month-to-month drops in January, presumably weather related.
Dry van, which just topped the $2 mark for the first time in the middle of 2012, according to Internet Truckstop, has now been above $2 for three consecutive months and hit a record mark in February with a per-mile rate of $2.08, second all-time only to July 2013's $2.09.
Van rates only broke $2 twice in 2013, and February's number was 42 cents higher than the same month in 2013. The segment had an 8-cent increase from January's $2.
Reefer posted its highest rate since July in a 5-cent month-to-month increase, boosting it to $2.29 a mile. Reefer rates in February were 41 cents higher than February 2013.
Flatbed, the least volatile of the three, had its highest month-to-month gain since May to June last year, climbing 4 cents to $2.011. Rates in that segment were 16 cents higher than the same month last year — a large gap, considering its non-volatile nature.