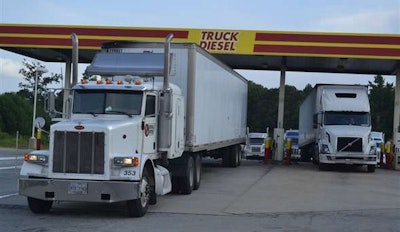 "Gross combination weight rating" has been redefined to clarify when CDL and other federal safety regulations apply to certain single-unit trucks towing trailers.
The amended definition is to provide a uniform means of determining if a combination vehicle driver is subject to federal safety requirements when GCWR information is not on the vehicle manufacturer's certification label. The new definition is effective April 18, according to the Federal Motor Carrier Safety Administration March 19 final rule.
The FMCSA initiated the rulemaking after the Commercial Vehicle Safety Alliance petitioned for the change in 2008. The definition was "proving problematic for inspectors and industry when determining what is considered to be a Commercial Motor Vehicle and when a CDL is required," the CVSA stated.
The agency agreed drivers, carriers and enforcement representatives should not have to search for the GCWR on manufacturers' product literature or for guidance on the FMCSA's website or in commercial publications
The new definition will classify GCWR as whichever of the following is greater:
A value specified by the manufacturer of the power unit if displayed on the Federal Motor Vehicle Safety Standard certification label required by the National Highway Traffic Safety Administration or
The sum of the GVWRs or the gross vehicle weights GVWs of the power unit and the towed unit(s), or any combination thereof, that produces the highest value.
The FMCSA withdrew its 2012 direct final rule to amend the definition because it received several adverse comments. Last May, it published a Notice of Proposed Rulemaking, which received support from the CVSA and the Truck and Engine Manufacturers Association.