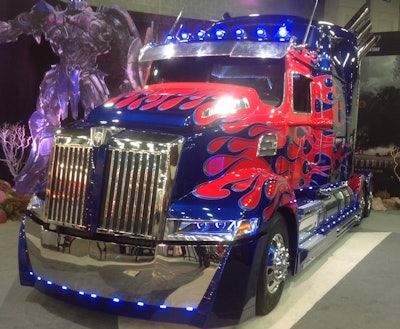 From show-stopping tie-ins to Optimus Prime, NASCAR and tire-smoking tractors, to more mundane matters such as fuel efficiency improvements and automated transmission sales, Daimler Trucks North America used its press preview hour at the Mid-America Trucking Show to highlight a wide range of industry-leading products from the company's various brands – and to hint at more to come.
Among the more interesting items, and a likely crowd favorite when the doors officially open Thursday, Daimler's Western Star booth features a set of very serious trucks with plenty of chrome and color. The standout and star of the show, based on the number of Kentucky Expo Center staff and other passers-by with exhibit floor access who posed beside it for selfies, could well be Optimus Prime, the heroic lead in the upcoming "Transformers: Age of Extinction" movie.
And while the wow factor was high, Western Star officials hinted that if you imagine Optimus Prime without some of the movie makeup, you'll catch a sneak peak at the new, Western Star-badged highway tractor – one meant to carry the marque's cachet and still hold its own against the industry's most fuel efficient tractors.
To be unveiled in the fall, the new aero-styled Western Star will be badged as a 5700.
In other announcements that were more about fun than freight, the Freightliner Trucks booth will screen the newest Mike Ryan stunt video, "Size Matters 2," and Ryan will also be on hand to sign autographs during MATS.
Also revealed on Wednesday, Alliance Truck Parts – DTNA's private label, all-makes parts brand – will upgrade it's NASCAR sponsorship from the Nationwide series to a Sunday Sprint Cup car with Team Penske and driver Brad Keselowski.
Back in the real world of trucking, the noteworthy news included word that the Detroit DT12 automated manual transmission has received 17,000 orders in less than a year since it became available in the Freightliner Cascadia Evolution.
"Within the first several months of the DT12 being in the market, we were already hearing from our early adopters that not only were they seeing performance and fuel economy benefits, but that their drivers particularly appreciated the transmission's safety and operational features," says Richard Shearing, vice president of National Accounts for Daimler Trucks North America. "Many of those customers have since made additional purchases for their fleets due to that initial success."
Freightliner Trucks also announced additional features for the Cascadia natural gas-powered tractor, including a 48-inch sleeper cab and factory-installed CNG fuel tanks. The Meritor WABCO OnGuard Collision Safety System is also now available on Cascadia natural gas-powered tractors spec'd with a manual transmission.
Equipped with the Cummins Westport ISX12 G heavy-duty natural gas engine, the Cascadia natural gas tractor features a variety of CNG fuel tank configurations, up to 190 diesel gallon equivalent (DGE) capacity with an anticipated fill-range of about 800 miles.
"As a leader in delivering natural gas-powered trucks, as well as the market leader in the Class 8 over-the-road market, we're adding options to our natural gas product line up that our over-the-road fleet customers are requesting," says Mary Aufdemberg, director of product marketing for Freightliner Trucks. "Having the 48-inch sleeper cab as an option on the Cascadia natural gas provides a smart option for fleet customers who want an alternative fuel solution without compromising comfort, performance and the ability to haul longer distances, while the OnGuard system contributes to the safety of their vehicles."
Also for the top-selling Cascadia, several new options are aimed at enhanced driver performance and safety.
These include:
ParkSmart HVAC system combined with Optimized Idle: An integration of two systems, this new feature automatically starts the engine if both the main and auxiliary battery packs are depleted.
Yellow B-Pillar Grab Handle: This brightly colored handle option is more visible for cab entry, especially when it is dark outside.
Leaf Spring Suspension Rating: The new 12.5K rated leaf spring suspension complements the Detroit front axle offering and provides a smoother ride and is lighter weight than a 13.3k suspension.
Genuine Bendix AD-9SI Air Dryer: More than 40 percent lighter with an additional 25 percent increase in capacity over the current AD-IP dryer, this new air dryer has a spin-on cartridge, enabling faster replacement.
Bright Finish Aero Mirror (for the Cascadia Evolution): This new bright finish option adds to the other stylish options offered by Freightliner, giving customers more options to customize their trucks.
LED Flush Mounted Lights: Providing bright and clean light, the new back-of-cab flush mounted LED lights also draw less amperage and have a longer life than incandescent lamps.
New Daycab Roof Fairings: Redesigned to optimize aerodynamics for non-Evolution models, the new Cascadia day cab roof deflector improves aerodynamics, resulting in up to a 3.7 percent increase in fuel economy.
Bulb Out Detection: The bulb out detection system automatically performs a check to determine if exterior lamps are functioning, and notifies drivers via an in-dash light if an exterior lamp fails to turn on.
A-Pillar Grab Handle: A great option for drivers who frequently get in and out of their tractor or who can't reach the door handle easily, this additional grab handle can make it easier to enter the cab.