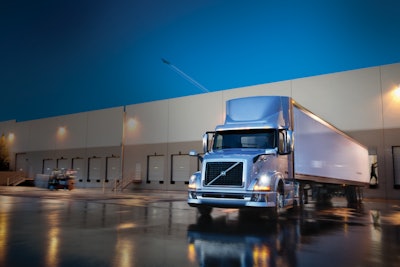 Volvo President Goran Nyberg said the company's 2014 engines are getting higher fuel economy than the company originally expected, besting their 2013 counterparts by 3 percent, rather than the 2 percent Volvo predicted.
The announcement came March 27 at the Mid-America Trucking Show in Louisville, Ky., where Nyberg also gave updates on the company's I-Shift automated-manual transmission, Volvo's remote diagnostics platform and alternative fuel-powered trucks.
Also, as a 2014 outlook, Nyberg says Volvo expects U.S. Class 8 orders in the year to be in the neighborhood of 250,000 trucks, and the company will ramp up capacity at its Dublin, Va., plant in anticipation of stronger sales, Nyberg said.
The company's 2014 engines are compliant with the EPA's greenhouse gas emissions regulations, and the better-than-expected fuel economy of its engines should save about $650 a year per truck, Nyberg said.
"Fuel efficiency remains top-of-mind across the industry, but there's no one-size-fits-all solution that will deliver massive improvements. Every drop counts," Nyberg said. Carriers ignoring opportunities for incremental fuel efficiency gains are leaving money on the table."
When integrated with its I-Shift transmission, even better fuel efficiency can be recognized, Nyberg said. I-Shift, he says, has "become the brains of the truck," using information about load, road conditions and more to decide how to gear itself and directing the engine on the right rpm and torque level.
Nyberg said 87 percent of the trucks it sold in 2013 were equipped with a Volvo engine, and 69 percent of its 2013 sales included the I-Shift.
The company also has sold 25,000 trucks equipped with its Remote Diagnostics system, a telematics system that detects any mechanical problems in the engine and relays information to carriers and the company's dealer network to automatically find any parts needed for repair and get it to a service shop.
The system so far has led to a 70 percent reduction in diagnostic time and a 22 percent reduction in repair time, Nyberg said.
Lastly, Volvo's Frank Bio said the company has four test trucks operating on DME (Click here to see prior Overdrive coverage on DME-powered trucks) and expects to have two more in operation by the end of the year. It also has several DME-powered trucks it's testing internally.
Volvo's exhibit is showing a VNX with the new addition of a sleeper, visible here in this 360-degree view.