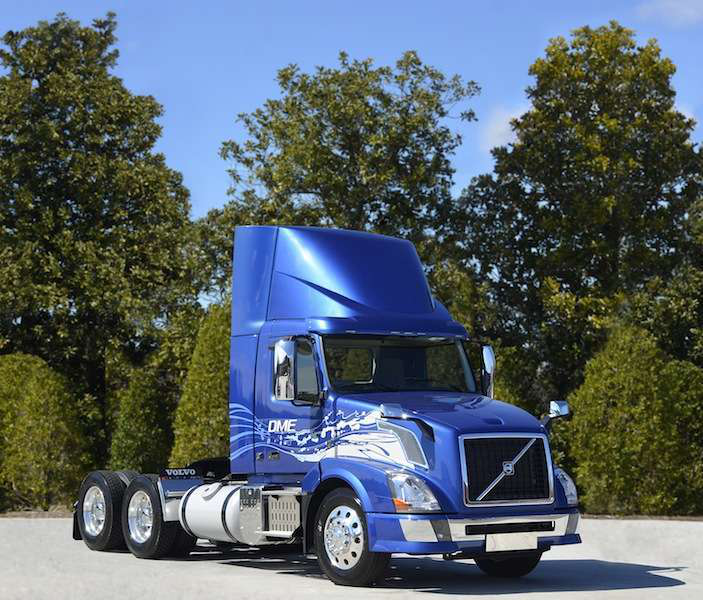 As part of its "Blue Power" campaign and strategy to finding alternative fuels for the trucking industry, Volvo unveiled June 6 a new alt fuel option for the North American trucking market — dimethyl either (DME).
Volvo says DME "mirrors..qualities and energy efficiency of diesel and burns clean without producing any soot." The fuel is a sustainable fuel, Volvo says, and can be made from several different sources, including natural gas.
Volvo said it will begin producing trucks using DME power in 2015, and the DME option will be available in Volvo's D13 engine. The truck maker's proprietary I-Shift transmission will be standard equipment with DME-powered trucks, too, the company said.
As part of the Blue Power lineup, Volvo also has CNG-powered VNM and VNL daycab model trucks, and it plans to introduce an LNG option next year for VNL daycabs and sleepers.
As a follow up to its DME announcement, Volvo said it has partnered with Oberon Fuels and grocery store chain Safeway to test the DME-powered trucks. The test will use DME produced from biomass, and the project has received $500,000  from California's San Joaquin Valley Air Pollution Control District.
Safeway will use two Volvo VNL model trucks equipped with DME-powered D13 engines. The fuel will be produced by Oberon. Volvo says Safeyway chose to take part in the testing because of its "positive experience with Volvo trucks, as well as the company's focus on sustainability.