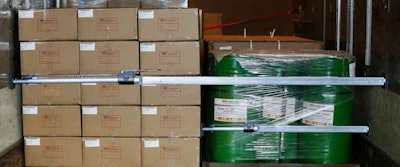 Kinedyne debuted its new Retract-A-Bar collapsible load restraint bar – the versatile heavy-duty load restraint bar retracts from 107 inches to 53 inches for easy shipping, storing and use within large dry vans, refrigerated trailers, small utility vehicles and standard pickup trucks all. The Retract-A-Bar is built to last, with heavy-duty componentry and feet similar to what you'll see on Kinedyne jack bars, but with a safety-locking system that illustrates another advantage over traditional jack bars. The system prevents over-extending and damaging trailer walls.
That Retract-a-Bar will be available in 90-120 days, and weight will be around 15 pounds, lighter than a typical jack bar, slightly heavier than a Kinedyne load lock.
Company rep Charlie Rist made note of the company's new 6,600-lb. ratchet binder, capable of use with both 3/8- and 5/16-inch chains. It's stamped with new Web Sling and Tie-Down Association-recommended data, now including not just the WLL and location of manufacture but the month and year the product was made, the company selling the product and the manufacturer's code. The new standards from the WSTDA were a result of an influx of overseas-made products and some manufacturers' claims that were becoming increasingly difficult to verify, noted Kinedyne Director of Sales Bob Dissinger.
At the company booth at the Mid-America trucking show, a model trailer outfitted the Kaptive Beam System for maximizing van space, is on display. Likewise attendees could take advantage of a show favorite in the company's contest — show attendees have the chance to win one of five $1,000 Kinedyne shopping sprees. In addition, customers who purchase a box of ratchet or winch straps from a Kinedyne distributor during 2014 MATS will also be given a free Kinedyne back pack. Last years' shopping spree winners purchased a variety of Kinedyne cargo securement products to benefit their businesses including Polar and Tiger Tarp Ties, tire nets, ratchets, straps and protective sleeves.