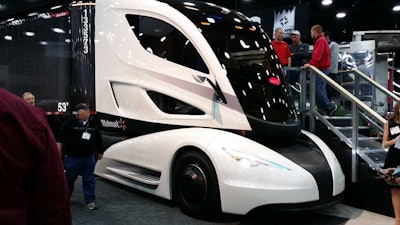 Though video of Walmart's concept truck — the Walmart Advanced Vehicle Experience — began making rounds on tech sites a few weeks ago, the company officially announced its existence in Louisville, Ky., this week at the Mid-America Trucking Show.
Click here to see video below of the concept truck.
In addition to the teardrop shaped body that's supposed to improve aerodynamics by 20 percent over conventional models, it has a fuel-neutral turbine engine, meaning it can run on diesel, gasoline, natural gas and biofuels among other sources, says Elizabeth Fretheim, director of business strategy sustainability in Walmart's logistics wing.
Fretheim said the project began taking shape about four years ago, when Walmart representatives saw a concept truck on display at a truck show in Germany.
The company then wanted to "make something bolder, more transformative" for itself, Fretheim said, so they sought they help of partners Peterbilt and Great Dane, who built the truck and trailer, respectively, for Walmart.
There's no word yet on what type of fuel economy numbers the truck posts, because Walmart won't start track testing the truck until this summer, Fretheim said.
Walmart also partnered with other industry manufacturers like Allison, SAF Holland and Grote for the project.
The truck's cab has been placed over the engine, shortening its wheelbase and reducing weight. It's also closed up the gap between the trailer and truck — a sticking point of aerodynamics in today's models.
Its turbine engine uses hybrid power, with the electric motor and energy storage handling acceleration and deceleration, and producing low emissions without aftertreatment.
The trailer's body is made almost entirely of carbon fiber, cutting the weight by about 4,000 pounds, Walmart says.
Fretheim says though a truck like this may not go to market for some time, if ever, the technologies of the truck are its key sticking points.
See the video below from Walmart about the truck.