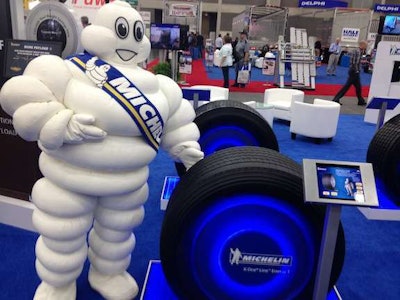 Less than four years after topping one million Michelin X One tire sales, Michelin Americas Truck Tires has reached the two million mark in North America, the company said Thursday in a presentation at the Mid-America Trucking Show.
Michelin marked the occasion by introducing new innovations for the X One lineup that includes the Michelin X One Line Energy T tire and the Michelin X One Line Energy T Pre-Mold™ Retread.
"Since the introduction of the X One, Michelin has led in the wide base single category with tires and retreads for every application, many on their second or third generation," says Ted Becker, vice president of marketing for Michelin Americas Truck Tires. "The adoption of the X One technology has accelerated because of the fuel and weight savings it brings to our customers. And, we look forward to delivering additional savings to our customers with the launch of the new X One trailer tire featuring the breakthrough Advanced Casing Technology."
Fleets that switched to X One tires have experienced up to a 10 percent improvement in fuel efficiency and more than 740 pounds of weight savings per truck, according to Michelin. The X One technology also allows line haul and regional customers to meet Environmental Protection Agency SmartWayrequirements and CARB regulations.
As a result, fleets have saved more than 150 million gallons of fuel, which translates into 1.5 million metric tons of carbon dioxide emissions that did not enter the atmosphere. With its weight savings, X One tires have also allowed fleets to carry millions of tons of added freight, resulting in increased revenue, better freight efficiency and additional CO2 emission savings, Michelin says.
The Michelin X One Line Energy T tire that was just launched represents the next generation wide base single trailer tire for line haul applications. With Michelin's Advanced Casing Technology, the tire delivers a significant reduction in irregular wear, which is often experienced in dual and wide base single trailer tires.
The tire's Advanced Casing Technology results in a contact patch with a consistent footprint, regardless of payload weight. It also provides a 15 percent improvement in removal mileage compared to the Michelin X One XTA, Michelin says.
Available in a 445/50R22.5, the SmartWay verified, long mileage X One Line Energy T tire has solid shoulders and microsipes that also help resist irregular wear.
Along with this new tire, Michelin is also offering the new Michelin X One Line Energy T Pre-Mold Retread. This will allow fleets to continue reaping the benefits of the new X One Line Energy T tire with this SmartWay verified line haul trailer retread.
In fact, it has a full 13/32nds of tread depth and up to a 15 percent improvement in removal mileage when retreaded on an X One Line Energy T casing, as compared to the Michelin X One XTA Pre-mold retread on a Michelin X One XTA casing, according to the tire maker.
A winged tread provides maximum shoulder adhesion and waved groove bottoms prevent stone drilling for added durability. It comes with the Michelin on Michelin guarantee.