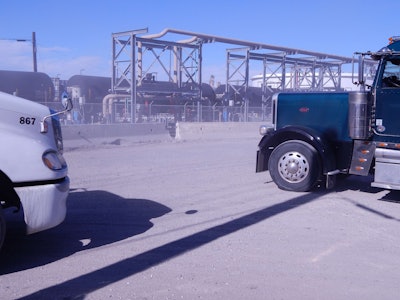 Total Transportation Services Inc. truckers want California officials to inspect for health violations at the company's Carson yard and for Los Angeles port representatives to also intervene.
They planned to testify April 17 at the LA port harbor commission meeting. The day before, the International Brotherhood of Teamsters filed a complaint with the California Division of Occupational Safety and Health on behalf of two TTSI truckers.
Company officials were not available for comment when this report was filed.
The complaint alleges the yard lacks dust control, resulting in nose bleeds and breathing problems for drivers. Toilets are unclean and insufficient in number and the site's only water source is a spigot by the fence. Additionally, the company does not supply or pay for protective equipment required to transport certain loads, according to the complaint.
Drivers said they contacted the division after a petition earlier this month to TTSI management failed to result in improved conditions.