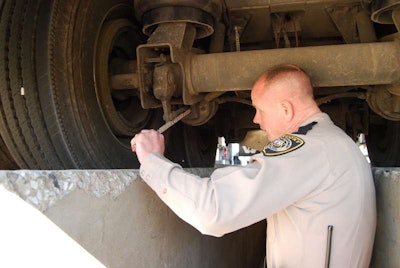 Details on the 2017 Roadcheck event you can find via this link:
Roadcheck, the annual inspection blitz done by a joint effort of the Commercial Vehicle Safety Alliance, Federal Motor Carrier Safety Administration and others, will take place June 3-5.
CVSA says roughly 10,000 inspectors from state, local and federal enforcement agencies will during the 72-hour period be stationed at 1,500 inspection points across the U.S. to do roadside inspections of trucks and buses.
Last year, more than 70,000 inspections occurred during the program, resulting in a 22 percent out-of-service rate for equipment and a 4 percent out-of-service rate for drivers.
CVSA has on its site a checklist for drivers published on its site, highlighting a few of the main equipment targets for the blitz: Brakes, coupling devices, fuel and exhaust systems, lighting, cargo securement, steering, suspension, suspension and tires, wheels, rims and hubs. Click here to see the checklist.
Roadcheck has been held annually since 1988 and has, according to CVSA, performed 1 million inspections.
OD Senior Editor Todd Dills wrote a "What to expect in Roadcheck 2014" piece last month. Click here to read it.