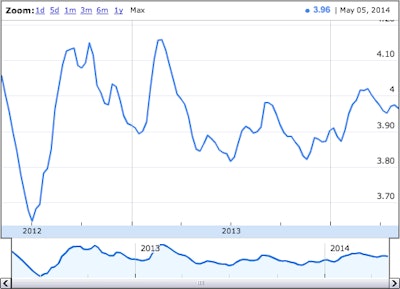 The national average price for a gallon of on-highway diesel fell in the week ended May 5 1.1 cents to $3.964, ending the latest string of increases at just two weeks, according to the Department of Energy's Energy Information Administration.
The price, however, is still up 11.9 cents from the same week in 2013, but the decrease could be the beginning of the DOE-predicted summer decline, when the national average price is expected to slide to a $3.87 summer average.
The year over year price differences are even more pronounced regionally, where some regions seeing prices differences as high as nearly 20 cents. In the Central Atlantic region, for instance, the price is 26.5 cents higher than the same week last year, and in the East Coast and New England regions, it's 19.2 cents higher and 19.5 cents higher, respectively. In the Rocky Mountain and California regions, the prices are 17.4 cents and 13.1 cents higher.
Prices did fall in all regions nationally, though, with the New England region leading the way with a 2.7-cent price decrease. The Midwest, Gulf Coast and East coast followed up with 1.2-cent, 1.1-cent and 1-cent drops, respectively.
The New England region still has the country's most expensive diesel, $4.181, followed by the Central Atlantic's $4.176 and California's $4.132.
The Gulf Coast has the U.S.' cheapest diesel, $3.813, followed by the Midwest's $3.935 and the West Coast less California's $3.944.