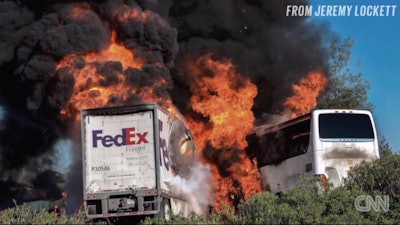 A third lawsuit has been filed in the California collision between a FedEx truck and bus of high school students that left 10 dead.
Ismael Jimenez's family filed a wrongful death suit in Los Angeles County Superior Court over the April 10 accident on Interstate 5. The 2007 Volvo truck was pulling two 28-foot trailers in Orland when it crossed the median and collided with the 2014 motor coach.
The 18-year-old helped fellow passengers escape the post-crash fire, but ultimately did not escape the fire and died at the scene. Defendants named in the May 19 suit for unspecified damages include FedEx,Volvo and Silverado Stages, the charter bus company.
Earlier this month, two related lawsuits were filed against FedEx and the bus company in the same court.
Rosa Rivera's wrongful death suit seeks $100 million in damages on behalf of her 17-year-old daughter Jennifer Bonilla. The complaint alleges the delivery giant's trucks have a history of fire problems and that the motor coach had inadequate exit doors.
Miles Hill, 18, also is suing after he escaped the fire by kicking out a bus window, but incurred injuries that included burns and a broken collarbone. Hill's attorney Chistine Spagnoli said the charter company had not ensured emergency evacuation procedures were in place nor conveyed these procedures to passengers.
Spagnoli, who petitioned to have the crash lawsuits consolidated, noted negligence is a component of her case. "Something happened with the driver that caused that loss of control and crossing over the median," she said.
The National Transportation Safety Board's preliminary report states the truck originally left FedEx's Sacramento facility at 10:00 a.m. and delivered two trailers in Weeds. At about 3:30 p.m., the driver picked up two other 28-foot trailers and was returning to Sacramento when the accident occurred.
The Southern California students were traveling to Acata for a tour of Humboldt University's campus.