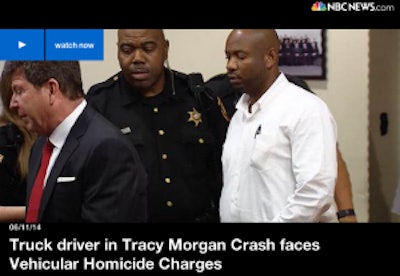 Walmart driver Kevin Roper has pleaded not guilty to the vehicular homicide and assault by auto charges filed against him in the June 7 crash that killed comedian James McNair and critically injured actor Tracy Morgan.
The complaint filed against Roper said he had been operating recklessly, and several news outlets have reported since the crash that he had not slept in 24 hours, though he had reportedly taken the proper off-duty time per federal hours-of-service regulations.
Walmart President and CEO Bill Simon said in a statement company representatives were "praying for the family and friends of the passenger who lost his life in the terrible accident in New Jersey. Our hearts go out to everyone involved and we hope those who were injured get the care that they need and make a full recovery."
Simon further acknowledged the involvement of a Walmart truck and pledged that, as facts unfold, "if it's determined that our truck caused the accident, Walmart will take full responsibility."
The crash took place at approximately 1 a.m. Saturday morning. Regarding several news reports that suggested the driver had been awake working for 24 hours prior to the accident, Walmart spokesperson Brooke Buchanan issued a statement Monday, June 9, saying that "it is our belief that Mr. Roper was operating within the federal hours of service regulations. The details are the subject of the ongoing investigation and we are cooperating fully with the appropriate law enforcement agencies. The investigation is ongoing and unfortunately we can't comment further on the specifics."
The high profile incident placed "the issue of highway safety, and in particular the safety of the trucking industry … at the forefront of the national conversation," said a written statement from American Trucking Associations President and CEO Bill Graves, who also took the opportunity to express condolences to "the victims of this tragedy and their families…. Every crash on our highways is a tragedy and that's why the industry places safety as our highest priority."
Graves also stressed in his statement the nature of the hours regulations, noting that they "only place limits on driving and on-duty time and require that between work periods drivers take a minimum of 10 consecutive hours off-duty." He emphasized that "they do not dictate what drivers do during that off-duty period."
Graves also affirmed his support for the Senate's recent action to try to suspend some of the hours of service rule changes from 2013.
The Teamsters this week, however, came out in opposition to rolling back the rule change, using the Tracy Morgan crash as support for its position.
Click here to read more about the Teamsters' and ATA's positions.