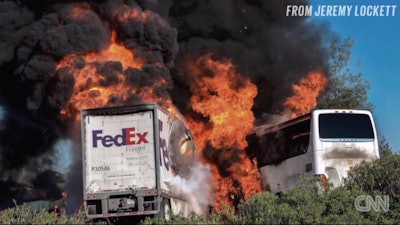 Federal officials have released more timeline information on the California crash between a FedEx truck and a bus of high school students that left 10 dead.
The National Transportation Safety Board has released its preliminary report on the April 10 accident that occurred about 5:40 p.m. on Interstate 5 in Orland. The 2007 Volvo truck pulling two 28-foot trailers in the southbound right lane as a 2014 motorcoach operated by Silverado Stages Inc. was traveling northbound in the right lane.
The truck left the southbound lanes, drove though a line of bushes in the 58-foot wide center median before entering the northbound lanes. It collided with the rear of a car that had just passed the bus and then crashed into the bus.
The truck and bus left the highway and a post-crash fire consumed the truck and partially burned the bus. The accident killed both drivers and eight bus passengers, while the occupants of the car received minor injuries.
The truck originally left FedEx's Sacramento facility at 10:00 a.m. and delivered two trailers in Weeds. At about 3:30 p.m., the driver picked up two other 28-foot trailers and was returning to Sacramento when the accident occurred.
The bus had been chartered to take Southern California students for a tour of Humboldt University's Arcata campus. A replacement driver took the wheel when the bus made a scheduled stop in Sacramento.