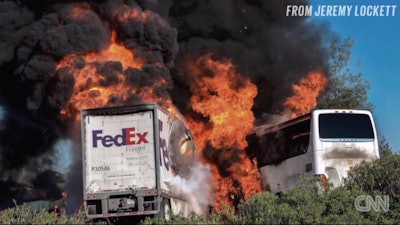 The National Transportation Safety Board is investigating a collision in California between a FedEx truck and a charter bus of high school students that left 10 dead and at least 30 injured.
The truck crossed Interstate 5's median near Orland and crashed into a charter bus about 5:41 p.m. April 10, according to the NTSB. Nineteen students from 16 schools in the Los Angeles Unified School District were headed to Humboldt State University's Preview Plus, according to the LAUSD.
District officials said they did not know if the five students who died were enrolled in LAUSD schools because students throughout Southern California participate in the HSU annual event.
Fatalities also included the truck and bus drivers and a HSU admissions officer, according to the university. Two other buses of high school students arrived without incident for the two-day event at the Arcata-based HSU. The university sponsors the two-day event for low-income and first-generation prospective college students from the Los Angeles and San Francisco areas campus.
FedEx said the company is cooperating fully with the investigation. "All of us at FedEx are deeply saddened by the tragic highway accident in California," the April 11 statement read. "Our hearts go out to all of those involved and their families."