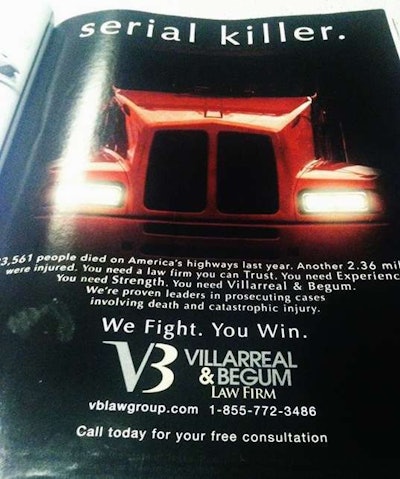 Serial killer.
It's an attention grabber, click bait, something to make you stop and exclaim, "Oh my! Did I miss an episode of Snapped?"
It's also being used by a Texas law firm as an ominous descriptive phrase, superimposed above the grille of a stripped down and curiously-missing-the-emblem Kenworth in a full-page ad, offering the firm's services to those on the road who have been wronged by the evil and fabulously wealthy trucking industry. (Even I know that's a K-dub grille, and I'm a trucking infant.)
OK, it doesn't have that language specifically, but it does give a lot of numbers, that stretch into the millions, without the actual facts to back them up. And while they never come out and say, "We go after truckers," they really don't have to, as they have already planted the image of a serial-killing truck in our minds, through slick photography and computer magic.
It's unfortunate these ploys are legal, and it seems at least one of the attorneys practicing at the firm represented by the ad has plenty of experience skirting the line between legal and illegal solicitation of clients. According to this article in the local news site mysanantonio.com, Alexander Begum has been involved in as many as five different lawsuits involving barratry, a "shadowy and illegal practice" in which clients are solicited at a disaster site or litigation for harassment or profit is waged. "Ambulance chasing" is specifically used as a description for the word from some sources. Sounds like a real stand-up guy.
It's also unfortunate that it's our reality out here – the big, bad, environment-killing, traffic-mauling trucker, who just ruins everything by even being around and breathing regular human air. It's an image we really need to address, and I think we should probably start with something we can actually affect – like the sales of the magazine running this ad in truck stops.
Don't buy it. Don't participate in their stupidity. Tell the manager of the place you see the magazine in that you'd prefer they not support a publication that sells advertisements to people who imply truckers are serial killers. We respectfully requested these outlets take it off their newsstands, as we think this small show of support is the least both could do to show a little love for the industry they profit the most from. I'm fairly certain the loss of sales from a month of Maxim magazine won't make or break either one of them.
In a perfect world, Maxim would immediately recognize the error of their ways, and realize they desperately need the evil trucking industry to transport their magazines to the various places in which they are sold. They would not only sever ties with the firm, but they would offer a full-page ad for Truckers Against Trafficking, free of charge, to raise awareness for something that matters, instead of take-home pay for ambulance chasers.
But that's a perfect world. Until we craft one of those, just keep writing those letters.
**Addendum**
Here's to Pilot/Flying J:
The following statement was issued a couple of hours after a corporate meeting today, held specifically to address the concerns issued publicly by drivers and those advocating for drivers.
MEDIA STATEMENT
June 4, 2014
Pilot Flying J is pulling all current copies of Maxim Magazine from the shelves at its more than 650 travel centers and travel plazas across North America because of an ad that the company does not believe accurately depicts professional drivers.
Pilot Flying J is proud to serve professional drivers and grateful for the important work that they do.
Anne LeZotte
Pilot Flying J
Lauren Christ
Moxley Carmichael
EDITOR's note: TravelCenters of America likewise followed suit similarly shortly after this story was published.