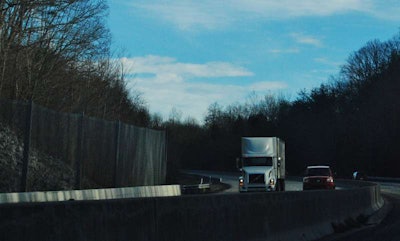 One more rotation around the sun, another 150,000 miles plus on the motor, mind and body. I have officially ridden shotgun in a truck for enough miles to make it to the moon without being unceremoniously hurled from aforementioned truck while traveling at a high rate of speed by the aggravated driver, who happens to be my husband.
2014 has been another eventful year for us – we got a new (to us) truck and started with Landstar, which was George's goal when he started driving. He set out with the intention to drive under a big blue star, and it took him seven years, but he achieved it, and I'm proud for him. We appreciate the opportunities and have been extremely happy with the company.
Once again, it's been a year full of learning. I learned that writing a letter can still be one of the most effective tools for change there is. Being able to help have the "Serial Killer" ads removed from Maxim was probably one of the most satisfying things I've ever done, and it all started with writing a letter.
Trucking ain't easy. There's a misconception in the general public that people drive trucks because they can't do anything else – and that's where the problem lies. Owning a truck is like any other small business, there's no reason truckers should be viewed any different than the local hardware store owner. It takes brains and determination to survive – and I've got to say it – more than a little luck.
2015 will be better because we'll make it better. Write letters, talk to people, make your voice heard. Don't be afraid to stand up for what you believe in, but don't forget your responsibility to present those things in the best light possible.
The Chinese calendar has 2015 as the "year of the sheep." I don't know about you, but I'm not feeling it. I say we make 2015 "the year of the trucker."
Happy New Year!
Join George and Wendy Parker tonight on Allen and Donna Smith's Truth About Trucking Live online radio program for a special New Year's Eve edition at 6 p.m. EST.