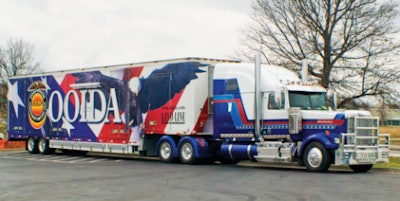 After building a truck from the ground up through fan votes, the Western Star "Design Our Star" show truck is now on the road, pulling the Owner-Operator Independent Drivers Association "Spirit of the American Trucker" tour trailer to truck shows, conferences and truck stops throughout the United States, Daimler announced this week.
The truck is being helmed by Boise, Idaho-based Jon Osburn.
With more than 16,000 votes during the year-long campaign, fans selected the truck model, application, engine, interior and exterior options. The truck includes a "big and bold" chrome accessory package, Daimler says, along with a custom paint job and a plush Ultra High Stratosphere Sleeper decked out in leather.
The truck tour is designed to "promote the business of trucking," says Western Star brand manager Andy Johnson. "The Design Our Star truck really captures what our fans love about Western Star – the bold and custom features combined with a powerful truck," Johnson said. "We're so pleased to partner with Jon and OOIDA to bring the Spirit of the American Trucker tour trailer on the road to promote the business of trucking."
Click here to see the list of scheduled appearances.