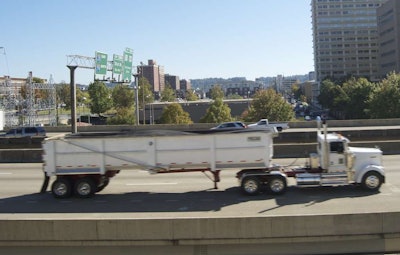 A DOT report issued June 13 indicates rules mandating the use of speed limiters in trucks, raising the minimum liability insurance for carriers and implementing a more complete and direct federal safety scoring system could still come in 2014.
The DOT's monthly report on significant rulemakings shows the Federal Motor Carrier Safety Administration is still working to produce a proposed rule by November to raise the minimum amount of liability coverage from the current $750,000 to a higher but still undetermined amount.
FMCSA in April announced its intention to pursue the rule, and the DOT's May rulemakings report set the target timeline for the rule's publication, which is scheduled for Nov. 12 — unchanged in the June report from the May report.
Congress, however, has taken steps of late to try to quash the rule, with the House adding an amendment to its annual DOT-funding bill that would prevent the agency from pursuing the increase.
The Senate's version of the bill also includes some direction for FMCSA, but on different rules: Its funding bill would require the agency to publish a proposed Safety Fitness Determination rule by December and to publish a the final version of the electronic logging device mandate by Jan. 30, 2015.
The agency's Safety Fitness Determination rule has been in the works since June 2007, and it would allow the agency to use a data set similar to the one it uses for its Compliance, Safety, Accountability program's Safety Measurement System rankings to produce an actual score for carriers. It would then use the scores to target unsafe carriers.
In the DOT's June report, the projected publication date for the proposed rule is Dec. 17. FMCSA is projected to send the rule to the White House's Office of Management and Budget Sept. 8. Both of those dates are unchanged from the May report.
FMCSA, however, has delayed the timeline for its rule to mandate the use of speed limiters in heavy trucks. It now expects to publish the proposed rule Oct. 23, backed up from last month's Oct. 1 forecast. It projects it will submit the rule to the Office of the Secretary of Transportation June 23 and to the OMB July 28.
The agency has not said what the mandated limit would be.