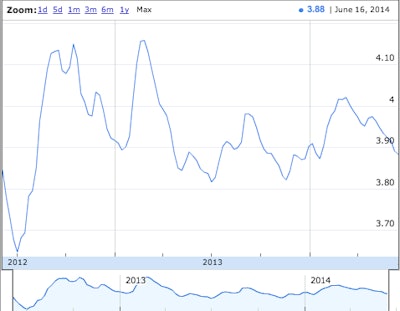 The national average price for a gallon of on-highway diesel fell 1 cent in the week ended June 16 to $3.882, according to the Department of Energy's Energy Information Administration.
That's the seventh week in a row that the national price has fallen, hitting its lowest point since the week ended Dec. 23.
The DOE predicted in April the national average price would drop this summer to an average of $3.87.
Year over year, however, the average price is still up 4.1 cents.
Prices in the week ended June 16 also fell in nearly all regions in the U.S., except for small upticks in Gulf Coast and West Cost less California regions, which saw a one-tenth of a cent increase and a four-tenths of a cent increase, respectively.
The Central Atlantic region led all price drops with a 2.7-cent decline, followed by the Lower Atlantic's 2.3-cent drop.
The East Coast posted a 2.2-cent drop, and the Rocky Mountain region saw a 1.7-cent fall. All other regions saw a 1-cent or smaller decline.
The New England region had the country's most expensive diesel, $4.088, followed by California's $4.069 and the Central Atlantic's $4.088. All other regions were below the $4 mark.
The Gulf Coast had the country's cheapest diesel, $3.770, followed by the Midwest's $3.835 and the Lower Atlantic's $3.863.