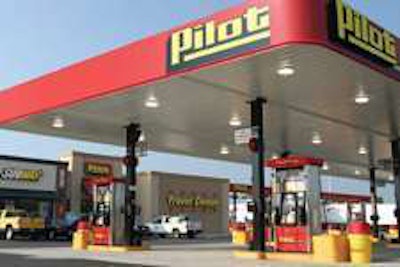 Pilot Flying J and Trucking Moves America Forward June 19 announced a five-year partnership in which the truck stop chain has committed $1.25 million to help grow the advocacy movement in the next half-decade.
The two held a press conference in Washington, D.C., to announce the donation.
"Pilot Flying J anticipates expanding our popular health initiatives and Road Warrior driver engagement campaign throughout the entire industry, utilizing TMAF's wide-ranging network of professional drivers, owner-operators, technicians and more," said Jimmy Haslam, founder of Pilot Flying J. "Our travel centers also reach millions of people annually, and we are excited to share in telling the trucking movement's story with such a vibrant, all-encompassing program."
Road Warrior is a Pilot Flying J-driven initiative to celebrate and honor professional drivers throughout North America for their determination and dedication.
TMAF – launched at the Mid-America Trucking Show – is an industry-wide image and internal education initiative aimed at informing policy makers, motorists and the public about the benefits of the trucking industry to help build political and grassroots support necessary to strengthen and grow the industry, the group says.
In April, TMAF announced it had raised more than a half-million dollars since its official March launch.
"We are incredibly grateful for this generous donation as Pilot Flying J plays a key role in reaching millions of Americans and this partnership illustrates how committed we are – as an industry – to telling trucking's positive stories," said Mike Card, TMAF fundraising chair and president of Combined Transport, Inc.