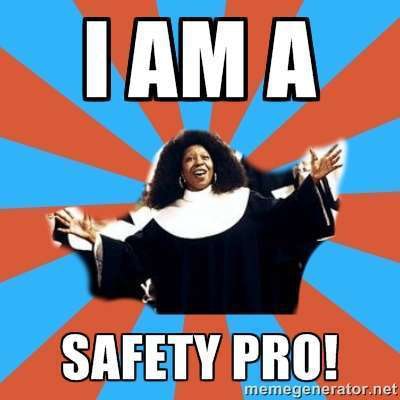 So yet another Hollywood-type celebrity has gone off at the mouth about something they have absolutely no comprehension of. Completely shocking. (This is blatant sarcasm.)
I caught Whoopi's Rant on Todd's Channel 19 blog the other day, and mostly I was surprised that she's still alive. I honestly thought she had been dead for years. Turns out, she's not only alive, she's been on daytime television for quite some time now! Shows how much I keep up with daytime television. I guess I'm strange, because I'd pretty much rather have pencils shoved into my eyeballs than watch a gaggle of women complain incessantly about yoga pants, so needless to say, I don't watch much daytime television.
If you watch the rant, which I have several times, because again, I'm fascinated with watching a dead person speak (oh yeah, she's not dead), you'll notice her blatant ignorance of the subject matter with the few statements she makes. Apparently, she was left to her own devices on this one – no writers, stand-ins or handlers appear to have been involved, although the video was "produced" by herself and someone else. I will give her credit for knowing a "vote" is taking place in Washington, and not Albuquerque, although I'm somewhat disappointed that she didn't take the time to research what "vote" she's talking about. Doesn't her daytime show have some sort of news person involved with it? Like Barbara Walters, or someone? Couldn't she have borrowed Barb's peeps to do a little checking before she ranted? Or even a simple Google search? I guess not.
I responded to Whoopi with a very nice letter and a rant of my own (below). I left a very civil comment on her YouTube page. I tweeted to her several times about not using her fame to promote blatantly false information. I sent her a Facebook message, a very nice one, offering to help her understand the issue she's griping about. I've yet to get any response. This doesn't surprise me — I'm not famous, and I don't have friends at ABC to help me out.
This seems to be a major problem with getting correct information out to the general public about the trucking industry. We don't have a Whoopi on our side. We don't have cute cats with birth defects that go viral on the Internet as our mascots. We don't have anything but the entire lives of every red-blooded American consumer behind our tractors, and that's not enough for them to pay attention, because they absolutely cannot make the connection that trucks and their drivers bring them everything.
We need a mascot and a Hollywood puppet to dance for us. I vote for the honey badger as our token animal and maybe someone like Kelly Ripa to prance around and film cute little rants about how awesome truckers are. She does a great job with toothpaste and appliances, maybe she could promote something that really matters.
I know. Shut up, Wendy, you're delusional. Leave me to my fantasy of a world where people appreciate the work that goes into getting those Oreos into their hot little hands so they can put them in their bellies. Leave me to my utopia, where truckers are actually respected and paid accordingly for what they do. I like it here. It's nice. Oh look, there's Whoopi, in her fantasy world where she thinks she knows something about the trucking industry. Hey Whoopster – hang on, I've got something to show you…
[youtube qdJKOPPIGko nolink]