So George finally made it back, just in time to get ready to go to MATS. When I say just in time to get ready I mean just in time to take the boy's senior pictures, celebrate his birthday with his family, have dinner with my family, spend a minute with our kids, fiddle with the truck, wash some clothes, buy a new pair of jeans and run to Louisville Wednesday morning. The power wash on the old farmhouse, new faucet in the kitchen and back lane grading will have to wait until he has fourteen minutes to spare again. Having both an old truck and an old farmhouse simultaneously is probably not advisable for sane people who want to actually rest on their breaks.
I try to help as much as I can, and I'm pretty dang good at doing things myself, but it always seems to take me at least one crying spell and a hammer fling to accomplish anything of value. This is OK, unless the hammer happens to fly through an eight-foot-tall, 100-year-old window, making a simple $5 do-it-yourself repair of the cabinet trim blossom into a $300 ordeal involving people called "glaziers."
So it's a little crazy in the Parker house right now. We're assembling outfits for every occasion. (When I say "we" I mean "I" am choosing clothing for everyone. It's my right as the Mom. I get to dress everyone for special occasions and funerals. It's part of the Mom Rule Book.)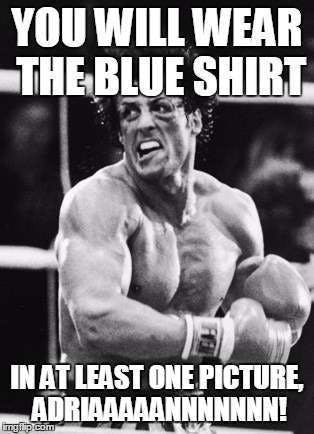 Packing for George and I isn't nearly as involved as choosing the outfits for our son to wear in what will be the most circulated photographs he has until he gets married. This is, of course, barring that he won't Snapchat himself doing something horrendous that goes viral, but we can only hope he has sense enough not to.
So as I'm coordinating fashion on the home front, I'm also attempting to get myself in order. I'm really excited about the show – it's the first time since September of last year that we've see most of our buddies from the industry. I want to look my best.
Not only am I fairly vain and not afraid to admit it, I come from a family of Southern women who will not leave the house without at least mascara and lipstick. My mother still dresses fully, does her hair and makes up her face to go to Kroger for groceries. To this day, if she happens to see me outside of my home without makeup on, she will ask me if I am sick. Because, clearly, that's the only excuse for going out unkempt.
That being said, I've been fairly a-flutter trying to get my roots done, nails polished, teeth bleached and legs waxed in preparation for MATS, because I'd hate to show up unkempt. We can't have Momma upset and worrying that I'm sick. Also, above-mentioned "fairly vain." Attempting to do all of this while assembling power outfits for a picky teenager sometimes proves that multitasking can be frightening.
I had ties and dress shirts laid out in my office, and was sitting at my desk, making notes about the order of clothes and pictures I wanted. I also had in my bleaching trays, which make me resemble Rocky, only with a bad case of rabies. I had my back to the door, writing. The boy walks in to approve my choices.
"Mom, can I please not wear the elephant tie with the blue shirt? I want to wear the tan shirt."
I didn't answer, because I had $10 worth of dental grade hydrogen peroxide in my mouth I was going to hold there for 15 minutes if it killed me. I kept writing and waved him off with my free hand without turning around.
"Gah Mom, they're my senior pictures, can I at least pick my own clothes?"
I was aggravated with his tone and whirled around in my office chair to face him with my Rocky lips and foaming mouth.
"Ooo ill wear the bloo shirt ith iiit or at least one icture!! Ow leave me alone, I'm leaching eye teef!"
The look on his face was priceless. I wish I had Snapchatted it. He was terrified.
"Umm. OK. Are you OK, Mom?"
"I'M LEACHING EYE TEEF! OH AWAY!"
He backed out of the office like I was a fully puffed-up king cobra and went to tell his dad I was foaming at the mouth.
Sometimes, beauty is hard.
See y'all at MATS.