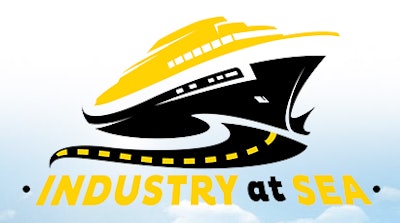 The Industry at Sea event, hosted by the Small Business in Transportation Coalition, will set sail September 12 from Port Canaveral, Florida, aboard Royal Carribean's "Enchantment of the Seas" vessel. Intended as an event to bring together "property broker, agent, forwarder, shipper, carrier, owner-operator and industry supplier colleagues for a three-night networking cruise," according to the event website, attendance comes with no registration fee for SBTC dues-paying members ($25 annually), only cost of the cruise itself.

James Lamb, SBTC head and volunteer president of the Association of Independent Property Brokers and Agents small-business-broker league, says the cruise line's cabin hold for the event will expire June 30. Best rates are likely to be garnered by those booking a spot before that deadline.
This marks the second year for Industry at Sea — last year, says Lamb, the event was "mainly focused on broker attendance as an AIPBA event, and too many members couldn't break away for three days at sea. This year, we have widened the net via SBTC and are hoping for greater trucker, carrier and shipper presence."
Lamb has been active in recent months promoting greater transparency in the transportation business, particularly as regards brokers' percentage take of line-haul rates. At his informational session held at the Mid-America Trucking Show, he engaged independent owner-operators on the subject and encouraged involvement in the SBTC to foster greater collaboration, better relationships among brokers, shippers and carriers.
Subjects covered in the official event program include partnering with factors, load-board marketplace innovation, broker bonding and insurance options and more.
Find full booking details and schedule via the event website.