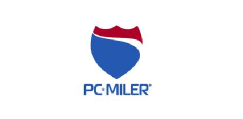 ALK Technologies announced the release of the latest version of its PC*Miler truck routing, mileage and mapping software. Version 28 includes new tools and enhanced functionality geared around the need for greater customization, providing the safest, most effective routing for each customer's specific business needs.
New Custom Route Profiles enable users to save sets of frequently used routing preferences and vehicle dimensions for future use, saving crucial back office planning time. For existing users that have built extensive custom settings in a previous version (including route options, custom road speeds and custom vehicle profiles) they can now easily import them to version 28. The time-based routing tool also now integrates road restrictions that are active during specific times and provides restriction warnings in its detailed driving directions.
Additional enhancements 28 include optimized routing for medium-duty trucks and the ability to add custom categories per the users' specifications to the Custom Place Manager feature. Enhanced routing, map data and address matching are also a major part of the release.
PC*Miler runs on Microsoft Windows, UNIX, and Linux platforms, as well as IBM AS/400 (iSeries) and mainframe computers. It's also available as a web-based application. Find more at this link.