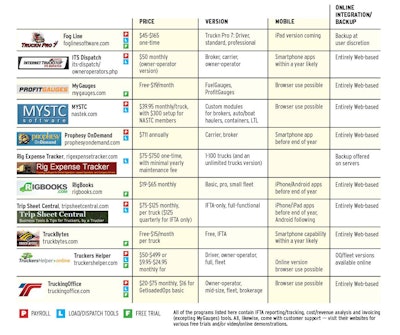 Part 1 looked at business management software tailored mostly to leased owner-operators, though many of the programs mentioned in that story also have more fully functional versions for independents and small fleets. Click through the chart image above for quick-glance comparisons.
Software for independents/small fleets
Former small fleet owner-operator Eddie Gichuhi launched his Trip Sheet Central online trucking management solution after working briefly as a Swift company driver, then as an independent owner-operator expanding to multiple trucks over time. Leveraging a longer-term background in IT management, Gichuhi says, he initially built his accounting systems to track his own business.
Going mobile
A majority of the owner-operator business software developers are pursuing some kind of mobile integration for their products (see the Mobile column in the chart above for the basics). That means trucking can take advantage of the Internet's efficiency benefits in new ways, enjoying the simplicity that accompanies mobile device programming, noted XRS (formerly Xata) Chairman and CEO Jay Coughlan in his opening presentation at the company's user event in August.
For XRS, maker of the Xata Turnpike RouteTracker electronic onboard recorder, its new mobile-centric platform is evolving to offer features well beyond hours recording for owner-operators.
Among today's EOBRs, RouteTracker has long been recognized as a low-cost alternative to the more expensive devices. A "black box" – offered free of charge – interfaces with operators' cell phones as the input tool. A "$30 to low-$40s" monthly subscription fee, says company rep Christian Schenk, will include, increasingly, accounting and business management tools. Via a smartphone app as well as an online portal, where applicable, "you'll have the hours of service if the owner-operator wants to have that service," Schenk says, as well as inspection report capabilities. "What we did differently is the ability for the driver to have the maintenance facility and/or mechanics interface with the app, authorizing repairs on the tablet and/or smartphone," among other features.
"I couldn't keep up with the paperwork," he says. "We basically had a bottomless hole and were pumping money into it without really progressing."
Gichuhi took opportunities on the road to quiz longtime operators about their business strategy. One small fleet owner told him the importance of knowing "where your money is coming from and where it's going out," Gichuhi says. "I didn't understand how much I was making or how much I was losing. When I put the numbers together and had an accountant to whom I was reporting everything, then it all started making sense."
He came to realize he was running with too much deadhead, no ability to negotiate good rates with brokers, no accounting for fixed costs like truck payments and difficulty paying his drivers. He tried QuickBooks and other general accounting software, but found it more suited to larger fleets with deeper pockets.
Today, his Trip Sheet Central software and other programs like it allow for that one- to five-truck owner-operator to manage all his trucks and customers while on the road. Because many of them are Web-based and can handle multiple users, a spouse or other employee in the back office can also use the program to input and analyze data.
Since its introduction in 2008, Trip Sheet Central has added a document-management tool for scanning and storing receipts, invoices and other hard docs, Gichuhi says.
With ITS Dispatch's carrier software, which has a target market of one to 35 trucks and brokerages of all sizes, similar functionality has been available since 2006, says company Sales and Marketing Manager Ian MacDougall. Users are "able to track their customers and create invoices. They can get detailed statistics where they're able to see their growth in revenues" and profits.
MacDougall says the invoicing is exportable into QuickBooks for bookkeeping management, and the company has talked about future integration of the uDrove app for document and hours management with ITS' business accounting and management tools (regardless, he adds, the software system is working on some smartphone integration of its own).
If you're already using QuickBooks, importing existing data into the program is also possible, as it is in Trip Sheet Central (working closely with Gichuhi) and the National Association of Small Trucking Companies' MYSTC software.
Operators using the Web-based MYSTC also have access to a marketing tool. "We have the ability for you to advertise your trucks' availability in front of" NASTC's Best Broker group of hand-picked honest brokerages. If they see a NASTC truck will be available in Oshkosh at 10 o'clock on Wednesday," Owen adds, "it may well give you a little help keeping that truck loaded."
Other programs allow for direct links to load boards and other freight resources from within the software, such as Prophesy OnDemand. "You can post to load boards within the system," says Bill Ashburn, creator of Prophesy's Tax Tally IFTA product and current company vice president. "You can post a load or your equipment. And our software works with our own Prophesy mileage/routing system or PC*Miler."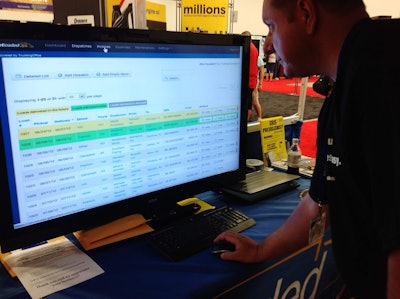 A version of the full-service TruckingOffice suite, developed by former owner-operator Allen Campbell (pictured here), is available online in a partnership with the GetLoaded.com load board as GetLoadedOps. Campbell says they've "grown from dozen a month signing up for a free trial in 2010 to 100 a month since July 2011."
Programs like these are best characterized as full business management suites tailored toward small operations rather than basic trucking accounting software. Via MYSTC, for instance, a small fleet owner can do things like bring up "real-time MVRs anywhere in country" when considering new-driver hires for a $2 up-charge.
MYSTC is Web-based, making it portable between machines and places, Owen says. "You can access your data from your yacht, or you can manage it from your beds
With MYSTC, Owen says, "You don't have any up-front costs" other than an $800 set-up fee for non-NASTC-member operators ($300 for members and $100 for operators who attend one of the organization's new-entrants training seminars).
"If I were trying to go from a startup to a larger trucking company today," says Owen, "I'd try to do it from the cab of my truck, using the Internet, with some damn good software."