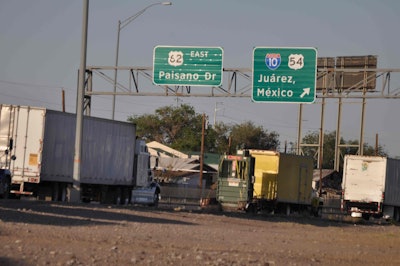 The mother of the Dallas trucker being detained in Mexico says Mexican officials have given little explanation for holding her 27-year-old son Jabin Akeem Bogan following completion of his seven-month prison sentence in Veracruz.
On Nov. 20, Aletha Smith said Mexico's immigration department immediately assumed custody of Bogan upon his release from prison five days earlier. Other than indicating the Demco Express driver was did not have proper documentation to be in the country, Mexican officials did not say when they would release him or provide further information.
"I have not seen my son for seven months," Smith said.
Demco supervisor Dennis Mekenye said Bogan had 268,000 rounds of ammunition to deliver to United Nations Ammo in Phoenix. On April 17, he was headed to a stop in El Paso before continuing to his final destination, but missed his exit and landed in a lane designated for Juarez, Chihuahua.
Bogan said he asked a Bridge of the Americas official for help, who instructed him to drive straight, do a U-turn and return to Texas. When he attempted to do so, Mexican federal officials searched his truck and charged him with "clandestinely introducing arms into Mexico used exclusively by the military," which carries a 30-years prison term.
Later, a 5th Judicial District judge in Chihuahua was presented with Mexican customs agents' preliminary investigation. Federal Judge Carlos Miguel Garcia Treviño heard the investigation indicated Bogan's truck was positioned just before the Juarez entry lanes and that he was trying to return to Texas through a non-authorized route.
Additionally, at least three Mexican custom agents testified before Trevino that the cargo was on open pallets and covered in plastic, yet another indication the trucker was not attempting to smuggle the ammo.
On Nov. 17, the El Paso Times reported Trevino found Bogan guilty only of possession of ammunition. The judge sentenced him to a $1,500 fine on Sept. 12, but prosecutors appealed and the same court upheld the sentence on Oct. 30. The sentence carries a requirement that Mexican officials supervise Bogan for three years, but it was unclear how that would be conducted, the newspaper reported.
Here's all of Overdrive's coverage of Bogan's case, starting with the April 28 report of his arrest:
April 28: U.S. trucker detained by Mexican authorities
May 3: Website rallies for release of U.S. trucker
May 4: Support swells for U.S. trucker detained in Mexico
May 11: 'Bring Jabin home' — rally around jailed driver continues
May 30: Bogan case: More reasons to choose a carrier carefully
May 26: DOT orders shutdown of Demco Express
June 21: Mexican customs officials corroborate trucker's story
July 10: Jabin Bogan's Mexico entry re-enacted
Aug. 25: Jabin Bogan's charge reduced