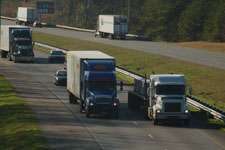 The American Transportation Research Institute has released the findings of its 2012 update to "An Analysis of the Operational Costs of Trucking." The research identifies trucking costs from 2008 to 2011 derived directly from fleet operations.
The average marginal cost per mile for 2011 was $1.71, the highest of the four years studied. After a sharp decline in fuel prices resulted in decreased industry costs between 2008 and 2009, industry costs have risen steadily through 2010 and 2011. Fuel and driver wages (excluding benefits) continued to be the largest cost centers for carriers, together constituting 62 percent of the average operating cost in 2011.
"Accurate, up-to-date operational costs are essential for our industry," says Chad England, chief operating officer of C.R. England Inc. and a member of ATRI's Research Advisory Committee. "Given the current economic climate, the more financial data carriers have to analyze, the more opportunities there are to improve operations."
In addition to average costs per mile, ATRI's report documents average costs per hour and includes cost breakouts by industry sector. A copy of the report is available at www.atri-online.org.