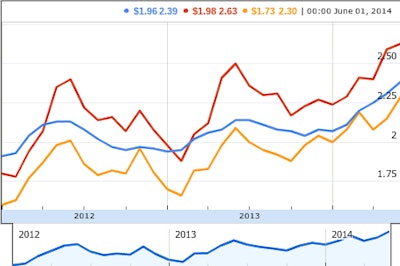 Per-mile rates on the spot market in June continued the major upward swing seen throughout most of 2014, and all three segments — flatbed, reefer and dry van — set record highs, according to July 1 data from Internet Truckstop.
Dry van led the month-to-month increases with a 15-cent jump from May, bumping it to an all-time high of $2.30 a mile and besting the previous all-time high ($2.19) set in March 2014.
That rate also bests last June's by 21 cents. June 2013 set an all-time high last year for van rates, which stood until March 2014.
Flatbed rates rose 8 cents in the month to $2.39 a mile — the segment's second consecutive all-time high. Flatbed rates have soared in recent months, climbing 31 cents a mile since January. Flatbed rates are usually non-volatile, holding between $1.90 and $2.14 between February 2011 and March 2014.
Rates in the segment are up 25 cents from the same month last year.
Reefer rates rose four cents in the month to $2.63, following a huge jump from April to May (19 cents). The segment also for the second straight month set a record high. It's up 13 cents from last June.
Rate increases have been predicted for this year due to an uptick in freight and tightened capacity caused by the regulatory environment.