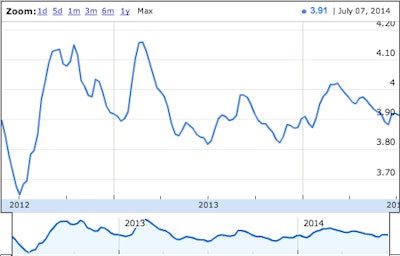 The national average price for a gallon of on-highway diesel dropped seven-tenths of a cent to $3.913 in the week ended July 7, according to the Department of Energy's Energy Information Administration, snapping the short two-week uptick in the price of diesel.
That increase, however, followed a string of seven consecutive price declines. Though they were mostly small, the price of diesel did hit its lowest point in the last week of the string of drops.
Compared to the same week last year, the price of diesel in the week ended July 7 was 8.5 cents higher.
Average prices dropped in all regions in the U.S., too, led by a 1.4 cent increase in the Gulf Coast, followed by nine-tenths of a cent drops in the New England and West Coast less California regions.
California again had the country's most expensive, $4.135, followed by New England's $4.098, the Central Atlantic's $4.069 and the West Coast's $4.067. All other regions were below the $4 mark.
The Gulf Coast still has the nation's cheapest diesel, $3.802, followed by the Midwest's $3.862 and the Lower Atlantic's $3.882.