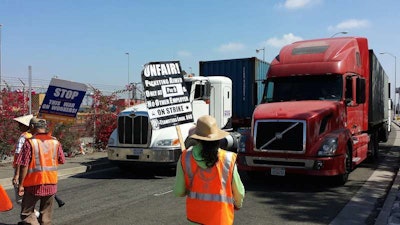 Port truckers that began striking July 7 at the Ports of Los Angeles and Long Beach voted unanimously to agree to a "cooling off" period July 12 and will return to their regular shifts, according to an announcement circulated by the union representing the drivers, Justice for Port Truck Drivers.
Los Angeles Mayor Eric Garcetti requested the breaks in the strike, the group says, and the truckers consented as the three carriers involved in the strikes agreed to accept the drivers back to work without retaliation, JPTD says.
The drivers — of carriers Green Fleet Systems, Total Transportation Services and Pacific 9 Transportation — halted work last Monday and began picketing, unhappy with wages and working conditions and their classification as contractors instead of employees.
Justice for Port Truck Drivers is a Teamsters-backed union.
Click here to read more on the strikes from Overdrive's July 10 coverage.