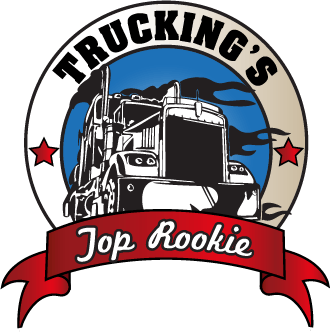 A record 55 nominations were received this year for the Mike O'Connell Memorial Trucking's Top Rookie award, contest producer Randall-Reilly announced this week. Randall-Reilly is also the publisher of Overdrive. 
The contest is designed to increase pride and professionalism among new drivers in the industry and to promote truck driving as a career. 
Any CDL holder who graduated from a PTDI-certified or NAPFTDS or CVTA member driver training school and was employed by a trucking company for less than a year was eligible to be nominated for the award. 
Trucking's Top Rookie is a partnership between Randall-Reilly, Truckload Carriers Association, Shell ROTELLA, Commercial Vehicle Training Association, Rand McNally, Pilot Flying J, American Trucking Associations, Progressive Insurance, COBRA Electronics, Red Eye Radio Network, and the National Association of Publicly Funded Truck Driving Schools.
An expert panel of judges, which includes representatives from motor carriers, training schools (both public and private), suppliers and trade associations, are reviewing the nominations. Ten finalists will be chosen, and they'll be recognized at a ceremony Friday, Aug. 22 at the Great American Trucking Show in Dallas. 
More than $25,000 in cash and prizes will be awarded, and Eric Harley of the Red Eye Radio Network will interview the winner immediately following the ceremony.
The Trucking's Top Rookie winner will receive:
$10,000 cash
A custom plaque from Award Company of America, a division of Randall-Reilly
A GPS unit from Rand McNally
RoadPro Getting Started Living On-The-Go Package
A dash camera from Cobra Electronics
$1,000 cash and 100,000 MyRewards points from Pilot Flying J
American Trucking Associations "Trucking Moves America Forward"package
The other nine finalists will each receive $1,000 in cash and a similar prize package.
The following entry-level drivers were nominated to be the 2014 Mike O'Connell Memorial Trucking's Top Rookie:
Phillip Alley, Epes Transport System, Inc.
Joshua Andrews, Stevens Transport
Freelin Berry, Transport America
Dion Blair, TMC Transportation
Ashley Bowers, Maverick Transportation, LLC.
Joe Boyle, Veriha Trucking
Elisee Carnelli, Hogan Transports, Inc.
Kevin Carpenter, C.R. England
Jonathan Chastang, Dart Transit
William Childers, Cargo Transporters, Inc.
Jason Dulier, Hogan Transports, Inc.
Rommel Duran, TMC Transportation
Derek Fischer, H.O. Wolding
Kyle Friauf, Transport America
Matthew Frisbee, Stevens Transport
Clarence Gillespie, Hogan Transports, Inc.
Lyle Grant, Maverick Transportation, LLC.
Paul Hedge, Werner Enterprises
Brandon Hooten, Maverick Transportation, LLC.
Othello James, Werner Enterprises
Steven Jameson, Dart Transit
Alex Jusino, Maverick Transportation, LLC.
Amanda Kidd, Cargo Transporters, Inc.
Byron Kilgore, Transport America
Sean Klarer, TMC Transportation
Michael Kline, Roehl Transport
Dominick Krajewski, TMC Transportation
Jason Kiser, Stevens Transport
William Mills, Britton Transport
Daniel Mota, C.R. England
Richard Mullen, D&D Sexton Inc.
Julie Matulle, H.O. Wolding
Jeffrey Nace, Stevens Transport
Joel Nelson, Dart Transit
Carlos Nordquist, Werner Enterprises
Cheryl "Charlie" Naujokas, C.R. England
Reg Polante, H.O. Wolding
Karl Sall, Dart Transit
Adam Sanford, Core Carrier Corporation
Sandy Schultz, C.R. England
Chad Sears, Maverick Transportation, LLC.
Byron Simpson, Epes Transport System, Inc.
Fred Smith, Roehl Transport
Ryan Sparks, Boyd Bros. Transportation Inc.
Cartha Speed, Transport America
John Spofford, Premier Crude, LLC
Jordan Steffens, Norseman Express Trucking Inc.
Robert Strong, Roehl Transport
William Steinmetz, C.R. England
Michael Towler, Roehl Transport
Nico Turner, C.R. England
Joseph Watson, C.R. England
Robert White, Werner Enterprises
Joel Wieland, Britton Transport
Roger Wright, Transport America