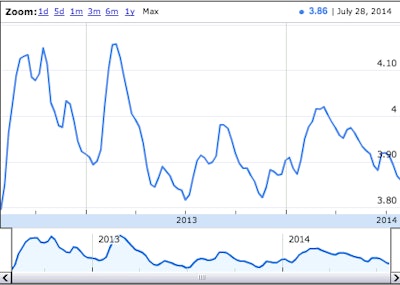 The national average price for a gallon of on-highway diesel fell another 1.1 cents to $3.858 in the week ended July 28, according to the Department of Energy's Energy Information Administration.
That's the fourth consecutive week the U.S.' average diesel price fell, and it's still at its lowest point since mid-November 2013. Last week's 2.5-cent drop was also the biggest week-to-week decline in the same time period.
Compared to the same week last year, the national average price is down 5.7 cents.
ProMiles' Fuel Surcharge Index reported a 1.7-cent drop this week, bringing its average to $3.79 a gallon — 7.5 cents lower than the same week last year.
Per the EIA, all regions also saw a drop in their average prices, with the Central Atlantic region leading the way with a 2.1-cent price drop, followed by the Lower Atlantic's 1.9-cent decrease and the whole East Coast's 1.8-cent drop.
California still has the country's most expensive diesel, $4.090, followed by New England's $4.044 and the West Coast's (including California) $4.017. All other regions are below the $4 mark.
The Gulf Coast still has the nation's cheapest diesel, $3.767, followed by the Midwest's $3.801 and the Lower Atlantic's $4.817.