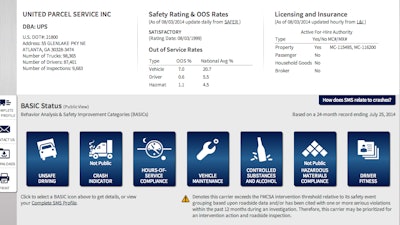 The Compliance, Safety, Accountability program's carrier rankings site — the Safety Measurement System — has been redesigned and has some new features, which went live Aug. 2.
FMCSA says the changes are an attempt to better highlight elements of the SMS that correlate with crash risk and to make the site easier for carriers to see how they can improve their scores. FMCSA says the site also makes it easier for third parties or members of the public who use the system to interpret the SMS rankings.
The agency also said it hopes to "clarify the SMS" as a tool for prioritizing carriers for intervention, not for rating their safety.
Highlights of the changes include:
*Reordering the BASIC listings so those that correlate most with crash risk are at the top and those that have a negative correlation are listed lower.
*Highlighting carriers' absolute performance trends in each BASIC, rather than the percentile rankings.
*Moving a carrier's SMS rankings ("scores") from their front summary to deeper within its profile.
Click here to read more changes, from Overdrive's November coverage, or here from coverage from July about FMCSA finalizing the changes.
The agency announced its intentions for the changes last November and has had a preview mode available since. It held a 60-day public comment period and announced in late July the changes would take place Aug. 2.
FMCSA has also planned three webinars to help carriers and drivers learn about the changes and how to use it.
The webinars will take place Aug. 20 10-11:30 a.m. (EST), Aug. 20, 2-3 p.m. (EST) and Aug. 21, 2-3 p.m.