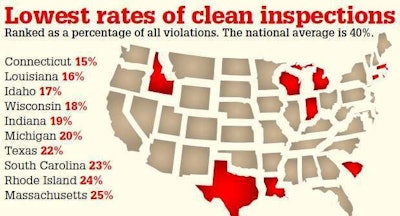 These 10 states issued the smallest share of clean inspections in 2013, making them the most difficult for improving CSA scores.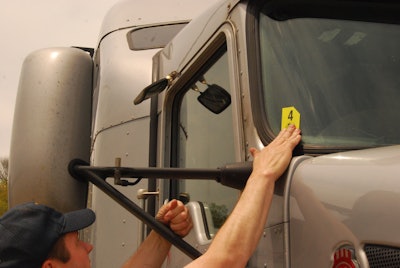 Driver Elvin Hilton's 2009 Kenworth T660 and the container chassis he was hauling May 5 caught a clean Level 1 inspection at the scale house in West Harrison, Ind. Hilton netted $150 from Cowan Systems, to whom the small fleet he drives for is leased. Inspecting officer Tyler Utterback says that, according to what he hears from drivers, more carriers than ever are rewarding drivers for clean inspections.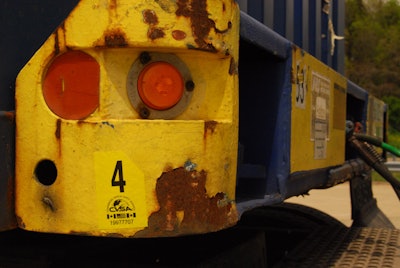 Nationwide, four in 10 inspections are issued as clean. Inconsistency is substantial, ranging from a high of 65 percent in Mississippi to a low of 15 percent in Connecticut.
Owner-operator Keith Stewart, who runs a lot of miles in Texas, says "it's very rare to see a Texas scale open" on the interstate system away from the oilfields and the border area. However, it's rarer for targeted enforcement in the Lone Star State to come out totally in the driver's favor, Stewart believes.
Recently bobtailing from Terrell to Austin, Stewart pulled into a scale in San Marcos, where he was asked: "When's the last time you were inspected?"
Stewart only recently had purchased his 2006 Peterbilt 379 and hadn't been inspected yet. After being checked "bumper to mudflaps," a small amount of oil on his rear wheel resulted in a single violation – a warning and not an out-of-service violation, but it kept him from getting a clean inspection and $100 from his leasing carrier, Parkway Transportation.
The good news? Indiana State Police's Tyler Utterback says if there's no violation on the inspection report associated with the Hours of Service, Driver Fitness, Vehicle Maintenance, Controlled Substances/Alcohol or Hazmat BASICs, the carrier's scores there are helped, even though there was a violation elsewhere. In Stewart's case, all categories but Maintenance were affected positively by his inspection.