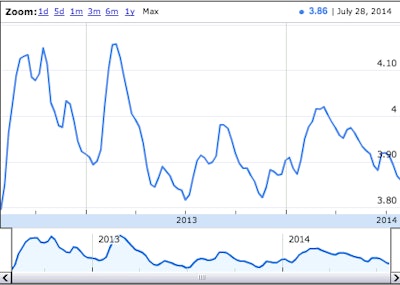 The national average price for a gallon of on-highway diesel fell another eight-tenths of a cent in the week ended Aug. 18, putting it at $3.835, according to the Department of Energy's Energy Information Administration.
That's the lowest the national average price has been since the week ended Nov. 18 and the seventh straight week the average price has dropped.
It also puts the U.S. average price 6.5 cents lower than the same week last year.
All regions in the U.S. also saw price decreases, except for the California subregion, which had a two-tenths of a cent increase.
The Central Atlantic had the largest decrease, 1.4 cents, followed by the Lower Atlantic and East Coast's 1.2-cent drops each. The Gulf Coast had a 1.1-cent drop.
California had the country's highest diesel average, $4.086, followed by the West Coast's (including California) $4.015. All other regions were below $4.
The Gulf Coast had the country's cheapest diesel, $3.739, followed by the Midwest's $3.78 and the Lower Atlantic's $3.788.