Jeff Langloss, federal program manager for the Federal Motor Carrier Safety Administration in the state of Texas, during his "CSA: Pre- and Post-trip Inpection" seminar at the Great American Trucking Show in Dallas, drove home the importance of the driver in carriers' Vehicle Maintenance BASIC scores in the Compliance, Safety, Accountability program.
He broke down for attendees just how many violations incurred at roadside related to the vehicle itself were items that could easily be picked up during required pretrips and noted on Driver Vehicle Inspection Reports for repair. "Drivers are the people who really control every BASIC" in the CSA program, Langloss noted.
Langloss "randomly picked 10 companies in and around Dallas-Fort Worth," he said, and pulled a year's worth of maintenance violation data to find a total 4,296 vehicle-related violations marked on roadside-inspection reports.
Among those violations, 3,309 violations, or 76.3 percent, were "violations that could have been found on a pretrip inspection," he said. Granted, "Some of it you're not going to see," he added. "But do you think you could get rid of about 50 percent of them? It is what I challenge you to do, and it all starts with a good Driver Vehicle Inspection Report."
Too many drivers, he suggested, were either just glossing over the routine DVIR and pretrip or weren't doing it at all.
Small fleet owners would do well to put in place DVIR-review programs following inspections with violations, if they're not in place already. The "motions you set in place with the driver, that's how we can change the behavior of that driver," Langloss said. "If he's written up [at roadside] for tires, that didn't happen between yesterday and today. Are they really looking at the tires [on their pretrips] or are they doing this." Langloss kicking a phantom tire with his right leg. "Start looking at the DVIR and compare it to the roadside inspection" and talk it over with the driver. "What about having a driver going through the truck with a mechanic back at the yard once in the year. I think you'll find your vehicle CSA score start to come down."
Langloss invites drivers and carriers with questions about any aspect of the regulations to call him directly anytime at his Austin, Texas, office: 512-916-5440. "The best way to understand regulations is to go directly to the people who wrote them."
Find interactive maps showing state violation priorities and inspection rates via Overdrive's CSA Data Trail coverage and main microsite.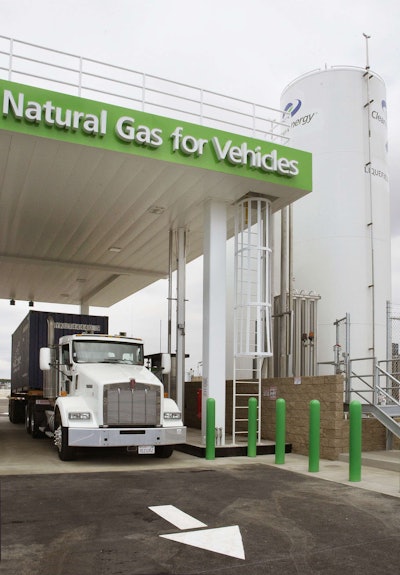 Natural gas ready to 'Ride on'
Balu Balagopal of Nat G CNG Solutions presented at the Great American Trucking Show on the value to owner-operators of fleets today of dual-fuel and other natural-gas powered solutions for transportation. The "Ride on with natural gas" title of Balagopal's presentation he dubbed appropriate in more ways that one. Today as ever, he noted, "most of America's commercial fleets are 'riding on' — they don't have the time to stop."
Relative to natural gas, too, he added, "we're at a point where 'ride on' is appropriate for natural gas – we're not all the way there, but we're getting close."
While government incentives for alternative transport fuels have traditionally been the kickstarter for new fuels, natural gas "stands on its own. This is one thing where you see economic value dominating the agenda."
He presented a case example of an owner-operator's investment in new equipment, and finance costs associated with it, upgrading to a 50/50 dual-fuel diesel/natural gas mix. If that operator drives approximately 400 miles per day, the savings premium for the natural gas at 5 mpg would equal about $1,100 per month, for between 400 and 700 of monthly extra take-home. "There's an owner-operator I was working with," said Balagopal, who "fought the change he'd considered quite a bit. But once he did it and he started seeing the savings," things changed. Anybody considering moving to natural gas should understand that "there's a lot of work involved to get to that kind of extra incremental income."