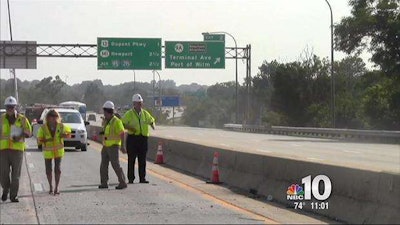 Delaware reopened the northbound lanes of I-495 this afternoon. https://t.co/ysKW2frIw0 pic.twitter.com/y5ULsGNzog

— delawareonline (@delawareonline) August 23, 2014
Delaware DOT quietly reopened the northbound lanes of the formerly tilting I-495 bridge over the Christina River on Saturday, August 23. The opening marked a finish to the repair project that was well ahead of schedule. Follow the link on this for background on the two-months-long project.
Jubilation from area residents, no doubt echoed by truckers running through, to the reopening was well evident in replies to the DelawareOnline.com newspaper site's above initial tweet of the news.
If it did at all, how did the closing affect your operation?