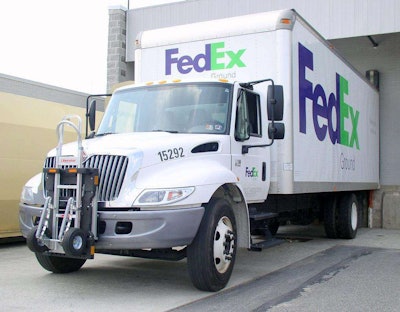 A federal appeals court ruled this week that certain FedEx Ground drivers in California between 2000 and 2007 were wrongly classified as independent contractors and should have been classified as employees of the company, making them eligible for such state-required benefits like overtime compensation, required rest periods and more.
The 9th Circuit Court of Appeals — the last stop before the Supreme Court — issued the ruling Aug. 27. The class-action suit covers about 2,300 drivers that worked for the company in that time period, the plaintiffs' attorneys said.
Circuit Judge W. Fletcher issued the majority opinion in the case, overturning a lower court's ruling in FedEx Ground's favor, saying that the drivers' contractor status did not stand up to California's "right-to-control" test, thereby making the plaintiffs employees of the company. Judges Trott and Goodwin, who heard the case with Fletcher, concurred.
FedEx Ground says it is seeking a review of the decision.
"We fundamentally disagree with these rulings, which run counter to more than 100 state and federal findings — including the U.S. Court of Appeals for the D.C. Circuit — upholding our contractual relationships with thousands of independent businesses," said Cary Blancett, FedEx Ground's Senior VP and general counsel. "The operating agreement on which these rulings are based has been significantly strengthened in recent years," Blancett said, referring to a new contracting model FedEx started using in 2011.
The company has taken "a number of steps in recent years to enhance its operating agreements with the independent businesses that contract with the company," FedEx Ground said in a press release.
The 9th Circuit court's ruling stems from FedEx Ground's control over the drivers in question, according to court documents. The company required a certain amount of on-duty time each day, determined their pay relative to a per-stop and per-day formula, required them to wear FedEx uniforms, required certain facial hair configurations and required them to drive FedEx branded trucks.
The drivers did have to provide the truck, but it had to be white, had to be a certain type of truck, have certain dimensions and have a FedEx logo.
In its explanation of the case in its ruling, the three-judge panel compared the work agreement set-up with FedEx and the drivers to a case brought by sharefarmers in 1989, in which the California Supreme Court ruled sharefarmers were employees as a matter of state law, not contractors.
The 9th Circuit ordered the case be sent back to a lower court to determine the amount to award to the plaintiffs and the class.
The 9th Circuit made a similar ruling in a case earlier this year, in which it decided that drivers for carrier Affinity Logistics were also employees, not contractors, as the carrier had argued.
The court also ruled in July that contractors for Penske Logistics in California were entitled to meal and rest breaks required by California law, despite their classification as contractors.