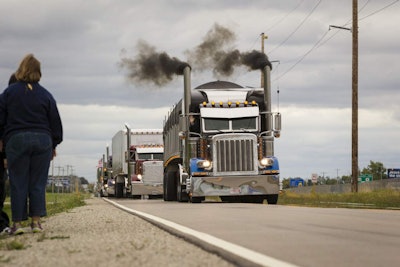 Dozens of law enforcement officials will be escorting more than 100 trucks along Highway 41 from Richfield, Wis., to Oshkosh, Wis., on Sept. 20 to raise money for the Special Olympics in Wisconsin and as a close to National Truck Driver Appreciation Week.
This is the 10th anniversary of the self-proclaimed World's Largest Truck Convoy.
Drivers who'd like to participate can register at the Pioneer Travel Plaza in Richfield at Exit 60 on HIghway 41 starting at 6:30 a.m.
An opening ceremony will be held and will include a live auction to determine the lead spot in the convoy. The convoy officially begins at 10:15, when police cars will escort the trucks on the 53-mile trek to the Experimental Aircraft Association at Exit 113 on Highway 41.
A closing ceremony will be held there and will feature live music, awards, raffles, an auction and a tailgate party.
Last year 136 participated, and the event raised more than $92,000 for the Special Olympics. Since 2005, more than 1,000 trucks have participated, and nearly $700,000 has been raised.