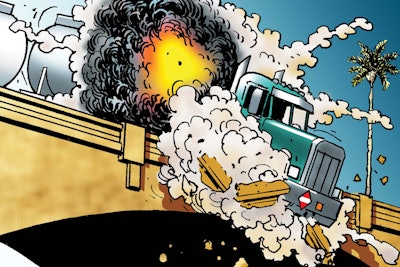 Goodyear announced this week that it is accepting nominations for its 32nd North American Highway Hero Award until Nov. 29.
The award is designed to "honor truck drivers who put themselves in harm's way to help others," the company says.
It announces the winner each year at the Mid-America Trucking Show in Louisville, Ky.
Click here to make a nomination for the Goodyear Highway Hero award.
Candidates for Highway Hero consideration must be a full-time truck driver and reside in the U.S. or Canada. Their heroic incident must have taken place in the U.S. or Canada, too, and their truck must have had 12 wheels or more at the time of the incident.
They must have been on the job or on the way to or from work in his or her truck at the time of the incident. The incident must also have occurred between Nov. 16, 2013, and Nov. 16, 2014.
This year's winner, Ivan Vasovic, rescued a driver who fell from a burning tanker truck that was hanging over the side of a freeway pass. Click here to read Overdrive's coverage of his story.