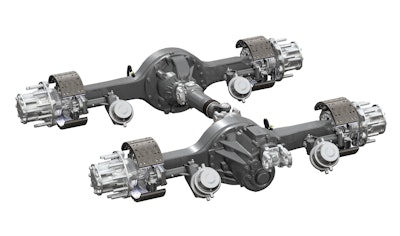 Peterbilt Motors Co. announced that Dana Spicer's AdvanTek 40 tandem drive axle now is available for all of its heavy-duty truck models, including Models 587, 579, 567, 389, 384, 382, 367, 365, 348 and 320. Peterbilt said the AdvanTek's efficient axle design and gearing, combined with an optimized integration with the truck maker's chassis, can improve fuel efficiency by up to 2 percent.
Peterbilt said that by using AdvanTek, customers also can realize additional savings through lower service requirements and reduced downtime. AdvanTek features a nonmaintenance u-tube breather designed to extend lubricant life, while an on-demand lubrication system is engineered to pump lubricant only when necessary, reducing the needed amount.
Peterbilt said the AdvanTek 40's design also enhances durability and reliability due to optimum inter-axle driveline angles that help minimize noise vibration harshness to increase u-joint life and reduce wear on other components. The axles also feature differential locking to provide maximum traction when needed.
Peterbilt said the AdvanTek 40 ideally is suited for direct-drive transmission drivetrains requiring ratios from 2.26 to 2.79, and that it is compatible with the SPL350-XL – required with and limited to 2.26 and 2.39 axle ratios – and SPL250-XL drivelines.