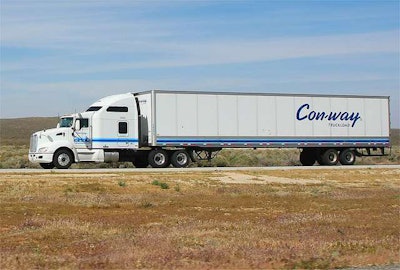 Con-way Truckload announced it is enhancing its tuition reimbursement program to help professional drivers entering the industry pay for school, effective immediately. The Joplin, Mo.-based company said the program will provide students currently attending or enrolling in a professional driving school with up to $4,000 in tuition reimbursement to earn a commercial driver's license and will provide a full-time position upon graduation.
"Professional truck drivers are essential to our nation's economy, and with the current driver shortage, we're looking for more ways to help bring new professionals into the industry," said Bert Johnson, vice president of human resources at Con-way Truckload. "By providing a means to pay for education, we're lowering the barrier to entry and providing jobs for these students right out of school."
Replacing Con-way Truckload's previous tuition assistance program, which gave students up to $2,000 in tuition support, the enhanced reimbursement initiative allows the company to make the monthly payments on a student's education loan for the first 12 months of employment with the company. After that time, Con-way Truckload will pay the remainder of the tuition loan in a lump sum, with total financial support of up to $4,000.