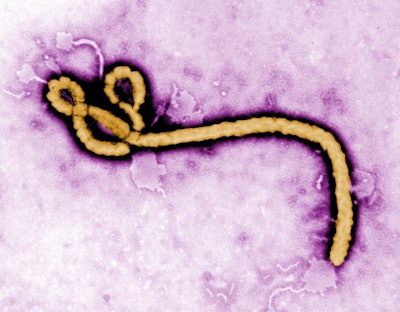 You might have some prior experience with Texas-based CG Environmental (pictured above) if you've ever been involved in an accident in a variety of areas of East and South Texas with any associated fuel or other hazmat spill. The "Cleaning Guys" offer their 24/7 emergency hazmat clean-up response service to municipalities and other customers from offices in Dallas/Ft. Worth, Houston, San Antonio and Austin. And, says company owner and sometime crewmember Erick McCallum, they can now add the Ebola virus to their list of cleaned contaminants.
When Overdrive spoke to McCallum Tuesday, Oct. 21, he was hopeful that "we're seeing the end of it coming very soon." The company has been on the front lines of the Ebola clean-up in Dallas, having handled a great deal of the hospital waste from Texas Health Presbyterian, where the now-deceased Ebola patient Thomas Eric Duncan was diagnosed and treated, the first such case to be diagnosed in the United States.
As of Wednesday morning, Oct. 22, the majority of those quarantined or under monitoring after exposure to the first patient had or were very close to reaching the end of the 21-day period of monitoring, the maximum incubation period of the virus.
McCallum and his crew were responsible for sanitizing and removing the entirety of items from Duncan's apartment. "We disassembled all of Duncan's apartment into 140 drums in one day – beds, entertainment centers," all manner of potentially Ebola-contaminated material, he says. A lot of it "doesn't fit into a drum unless you make it fit into a drum." CG staff likewise handled some of the hauling of the waste, he says, given that "we were under the direction of Homeland Security … the only reason we hauled any of it. Homeland Security commandeered our [equipment] to haul it off-site" under 100 miles to a site where drivers from the medical waste incineration and disposal company Stericycle took care of the load.
Those drivers, hazmat-endorsed haulers, "weren't touching any of the materials," McCallum says. "They were just driving the tractor hauling the trailer" to the locations for ultimate disposal. Stericycle operates incinerators in a variety of locations around the country. CG haz-techs, McCallum continued, "went to the location to load and unload the trucks" in all instances associated with the Ebola cases.
Asked whether, prior to taking the job, he or others at the company worried about the safety of workers involved in the cleanup of this or other associated sites, McCallum says no. "My guys know that if I won't do it, they won't do it." McCallum himself was directly involved in a lot of the hard work, he adds.
Equipment used in the Duncan cleanup included some CG-owned equipment, such as a one among its stable of Isuzu-model box trucks, typically outfitted with a 16- to 24-ft. van on the back for more regular jobs, a "small enclosed trailer, [and] we had to bring in a [53-ft.] enclosed car hauler" to accommodate the 140 drums of waste.
CG handed off work on the cleanup of the first infected nurse, Nina Pham, to Protect Environmental after the state made the decision to bring on the company; they handled the second nurse's apartment as well. (An early version of this story incorrectly stated that CG handled the second nurse's apartment.)
Through all of CG's work, McCallum says, though "you may think this sounds like some kind of thought-up script, we're family here and we had a problem here in Texas. It had to be done by a company who would do it right. … We did what we had to do. We didn't need this spreading throughout Texas."
The following news video from early October shows some CG Environmental equipment involved in the Ebola cleanup.
Some new restrictions on flights from West Africa put in place
In the midst of ongoing Overdrive polling on whether a travel ban to and from the West African countries where the Ebola virus outbreak remains a significant problem, results continue to show 9 in 10 readers in favor of a ban. The U.S. government put in place restrictions that would only allow passengers from Sierra Leone, Liberia or Guinea to come into the U.S. via the John F. Kennedy (New York), Newark, Washington Dulles, Atlanta or O'Hare (Chicago) international airports.