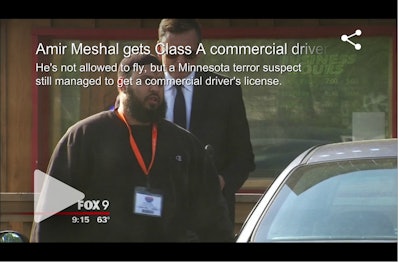 It was reported last week by KMSP-TV in Minneapolis that a man named Amir Meshal was granted a Class A CDL in Minnesota.
Obviously CDL issuance isn't news. What is news with Meshal, however, is his identification by the Department of Homeland Security as a potential terrorist threat. He's even on the U.S.' "No Fly" list, meaning he's not allowed to board flights in the U.S.
Given this information, a question comes to mind: Should people on the No Fly list be allowed to obtain a CDL? Do we need a "No Truck" list, too?
After the Sept. 11, 2001, attacks in New York City and Washington, the newly formed Department of Homeland Security deemed truck hijackings as one of the more grave domestic threats. Organized truck hijackings, feds determined, could shutdown major arteries into and out of cities, along with being disguised as weapons or bombs.
Legally, the Minnesota Department of Public Safety had no other option than to issue Meshal the license because he has no criminal background. Meshal's ACLU attorney Hina Shamsi said Meshal "has never been charged with a crime and has sued the government to obtain a fair process to challenge his wrongful inclusion on the No Fly List."
Common sense, however, argues otherwise . The station that reported on Meshal's issuance of a CDL also reported Meshal was kicked out of a Bloomington, Minn., mosque after he was suspected by the mosque's leaders of radicalizing young people who would later travel to Syria. According to the report, he had also previously been asked to leave an Eden Prairie, Minn., mosque for similar reasons.
Homeland Security responded to a lawsuit brought by the ACLU on behalf of Meshal saying he, "…may be a threat to civil aviation or national security," and "it has been determined that you (Amir Meshal) are an individual who represents a threat of engaging in or conducting a violent act of terrorism and who is operationally capable of doing so."
The ACLU claims Meshal was wrongfully placed on the list, which could very well be true, but until it's proven that he isn't a threat as Homeland Security described him, should he be allowed to drive a commercial vehicle in the United States?
Should the red flags that put someone on the national No Fly list also place someone on a similar list that bars them from obtaining a CDL. Or, at the very least, prevent them from obtaining a CDL as easily as Meshal did?
U.S. citizens need a chance to work and earn a living for themselves and their families. But when someone with a background that lands them on the "No Fly" list applies for a CDL, we might want to consider taking extra precautions.