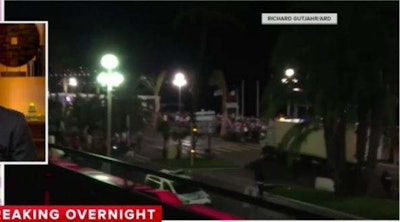 The suspect in the late Thursday terror attack in Nice, France, weaponized a straight truck in the Bastille Day attacks, materializing a fear held by the FBI and the Department of Homeland Security.
Both agencies in recent years have warned of heavy trucks being used in terror attacks. Weaponized trucks were the key subject of a 2010 FBI report titled "Possible Indicators of Use of Large Commercial Vehicles as Weapons," and a follow-up report titled "Terrorist Use of Vehicle Ramming Tactics." The latter report cited attacks around the world in which trucks or other vehicles had been used as ramming instruments, like the use of the straight truck in the Nice attacks.
The attacker, Mohammed Lahouaiej-Bouhlel, reportedly drove a delivery truck by trade.
However, Lahouaiej-Bouhlel, who was killed in a shootout with police on Thursday, rented the truck used in the attack several days prior to the Thursday attack, according to a report from England's Mirror.
Lahouaiej-Bouhlel drove the truck over a mile along a crowded boardwalk, killing more than 80 people and injuring about 100 more.