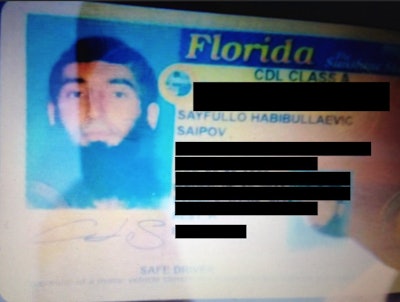 BREAKING: Reportedly Suspects Driver License from New York Terrorist Sayfullo Habibullaevic Saipovm #Manhattan #NewYork #TerrorAttack pic.twitter.com/FKGDjh2WNg

— Breaking News (@7billionpeoples) October 31, 2017
The suspect arrested Tuesday in the terrorist attack that took place in Manhattan, in which a rented Home Depot-emblazoned pickup truck mowed over pedestrians and cyclists along a pathway in New York City, was once employed as a truck driver, according to reports from major news outlets.
Sayfullo Saipov, a 29-year-old who said he carried out the attack "in the name of ISIS," was a CDL holder and formerly employed as a truck operator, though it's unclear whether he was a long-haul driver or something else, like a local delivery driver.
The attack left eight dead and another dozen people injured, underscoring the dangers of weaponized vehicles. Major attacks using tractor-trailers have been carried out in the past year and a half in both France and Germany, though no such attack has yet occurred on U.S. soil.
Embed from Getty Images
But such attacks are of concern, and the Transportation Safety Administration this year published a long bulletin warning law enforcement and the public at large about the potential for trucks, including both pickups and Class 8 vehicles, to be used to inflict terrorist attacks.
ISIS has encouraged such attacks, and New York Gov. Andrew Cuomo reiterated this point in an interview with CBS News on Tuesday. "The Internet has given them (ISIS) a global platform and a global training ground," he said. "They have a very simple play: rent a car, rent a truck, create mayhem."
Overdrive readers in February overwhelmingly said it's likely that a weaponized tractor-trailer will be used in an attack in the U.S., with 8 in 10 saying they believe an attack is likely and nearly 6 out of 10 seeing a truck attack as "very likely."
See Overdrive's prior coverage of truck attacks at the links below.