We've got a lot of friends out on the road. The opportunity to meet new people is never-ending when you're traveling. It also helps that George would talk to a fence post, if he thought it would talk back to him. He's friendly and seldom says weird things to strangers (unlike myself), which is why I usually let him do the talking.
The past couple of years, we've met a lot of new friends, and it seems like we're in pretty close proximity to either a friend or family member almost everywhere we go. And while it's awesome to visit with new friends, there's nothing like the familiarity and comfort of seeing old friends.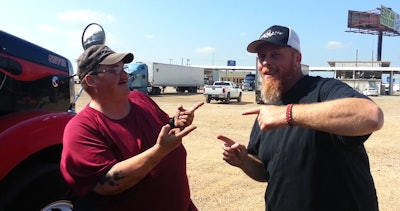 George has known Baggy Eyed Bob (pictured, left, with George) for at least ten years now. They didn't meet through the trucking industry. We all lived in the same apartment complex – way back in 2003. Bob was driving a big, black Kenworth, and it's kind of hard to not notice a humongous KW in the parking lot of your apartment complex, especially when you have a seven-year-old son who is completely fascinated with it. We got to know Bob and his wife, Paula, and even after we moved from the little apartments, George and Bob kept close contact.
When George started over the road, Bob helped out. We were pretty much flat broke, and couldn't afford to equip the truck he was driving with many conveniences. Bob made sure George had a CB and a decent mic, a nice atlas, and $50 in his wallet for emergencies, because that's the kind of friend Bob is.
The years have passed, and now that both George and Bob are both over the road, we get to meet up with Buddy, which is what I call him, at least once a trip. We have a meal and the guys talk about truck stuff while I pretend to pay attention. The fellowship is always nice, and the fight over the check is usually pretty comical, but the best part of seeing Buddy on the road is the cornucopia of things he and George exchange when they see one another.
"Man, I need to get some gladhand seals. Can't pick up a trailer in Laredo that has 'em – they're always missing."
"I've got a bag in the tool box, I'll get you some."
"Have you tried that window cleaner I told you about yet?"
"Nah, haven't seen it anywhere."
"I've got some in the truck, I'll give it to ya."
And so it goes, until they've both exhausted their supply of things to share. Last time we met at Norms 44 for breakfast, we left with new gladhands, new gladhand seals and a coffee cup. Bob had a Tony Justice CD, a CB mic and Chrome Shop Mafia hat. I laughed, because we almost had to get grocery bags to swap and haul loot with.
Don't ever let anyone tell you truck drivers aren't generous – especially with their family and friends. We've got a bag full of goodies sitting here on the floor of the cab that says otherwise.
Thanks, Buddy!